In the very beginning, everythingwas just beautiful. We acquainted light, abundance of existence anddrunkenness from passion. But suddenly, prophetically inevitable,scared by damnation, life starts to wither, to be scared, to divide,dissolve, crack, becomes a cynical frightened beast. Some say thatanatomy of the fall can be explained in eight acts. Some say thatanatomy of the purging can be pictured in eight acts. But all of themare agreeing on one - after death, sometimes stone is left behind us.                      In years, these photos were gathered across three continents, fromdifferent cemeteries. Cemeteries are congregational place of hope ineternity, in absence of pain, in love, and in unity with God.Manifestations of that hope are stone icons and sculptures. If we learnto read graves and icons, we will learn to read whole human history,but an unchangeable one, eternal history of people, which is neverchanging because it is that stone which sometimes stays behind us afterour death.
Each of these images are having titles and then subtitles, who are "hints" of what each given picture is about. Order of the pictures is important to keep flaw of story in correct way.

PARTING OF SAME
          or
about how space is a vast depth where  even a silent whispering of a brother is not
penetrating through.
DEATH OF THE FATHER
            or
            about how leaving is act of being ingrown in earth
              
SISTERS
            or
            about how a lost hand from the darkness  is the one who will lead you towards side of light.
SWORD
            or
            the  sword is your shield and don't have  any other shield but me.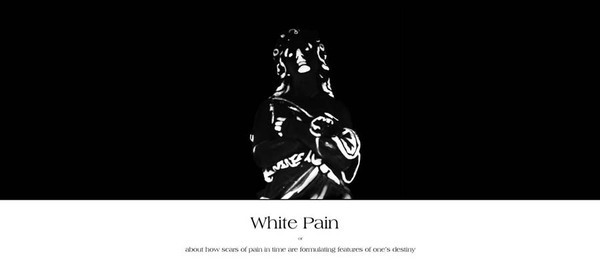 WHITE PAIN
            or
            about how scars of pain in time are  formulating features of one's destiny.
SITTING ALONE
            or
            is melted fate just first in a row towards final act of vanishing
TENDERNESS
            or
            is justice measured by the size of a  blade            
SALVATION
            or
            stony tears can be recognized by the way  that they are always turned towards its creator.