In Downtown Austin, you find three prominent architectural styles: The Victorian & Neo-Classical styles of the late 1800's & early 1900's, the bland to VERY bland of the 70's & 80's, and the tinted glass & polish of the 90's up to the present.  However, Art Deco, Mid-Century Modern, and all the styles in between are not as well represented, but they are there.  The  following are a few detail examples.
Photos 1-3: The Dewitt C. Greer State Highway Building, designed by San Antonio architect Carleton Adams.  Since its completion in 1933, it has served as the administrative headquarters of the Texas Department of Transportation.  Listed on the National Register of Historic Places.
Photos 4-7: The Austin Daily Tribune Building (aka the Ernest O. Thompson Building), designed by Tyler architect Shirley Simons.  Completed in 1941, the building served as home for the Austin Daily Tribune newspaper for less than two years.  (The newspaper's publisher died shortly after the newspaper's start and the building's completion.)  A few years later, it was purchased by the state of Texas, and has served as a state office building ever since.  Listed on the National Register of Historic Places.  By the way, the inscription beautifully carved in the red marble on the front of the building, but blocked by a big rose bush, reads…
"A FREE PRESS IS THE PROTAGONIST AND PRESERVER OF ALL RIGHTS…THE FOE AND DESTROYER OF TYRANNIES.  IT INSURES EVERY GOOD CAUSE A HEARING AND EVERY FALSE DOCTRINE A CHALLENGE.  IT IS THE SERVANT OF RELIGION, PHILOSOPHY, SCIENCE AND ART…THE AGENT OF TRUTH, JUSTICE AND CIVILIZATION.  POSSESSING IT, NO PEOPLE CAN BE HELD IN INTELLECTUAL OR POLITICAL BONDAGE…WITHOUT IT, NONE CAN BE SECURE AGAINST ANY FORM OF ENSLAVEMENT……
THE AUSTIN DAILY TRIBUNE, AN INDEPENDENT NEWSPAPER DEDICATED TO THE SERVICE OF A FREE PEOPLE."
Photos 8-9: On the way back to our car, came across a beautifully done Mid-Century Modern-style mosaic at the front entrance of the FOX network's Austin affiliate, FOX 7, at 10th & Brazos.  Also, a period sconce.  Could not find much info about the building, but reckon it was built early to mid 60's, and has probably always served as a radio and/or television station previous to FOX.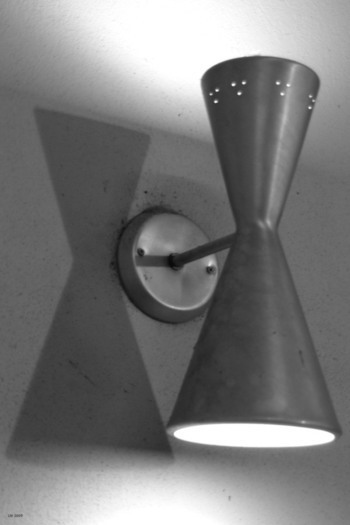 And finally, The Heiress hamming it up under a cool typeface.