2D - 2.5D - 3D
Brush Experiments
This personal project (that - later - turned into a few different tutorials, articles or little demonstrations) came up as a result of many experiments that I did while learning ZBrush, some time ago.
The article displayed below (written for a Czech CG magazine PIXEL, Issue #145) is briefly showing a few examples of how to "add" another - the 3rd - dimension to 2D-artist´s flat Photoshop brushes - or - how to combine 2D - 2.5D - 3D (by turning a part of photo either into a PS brush or ZB Alpha, that can be further used both for 3D or 2.5D "volume" painting), to get some interesting structuring effects ... 
As for 3D - personally I do not consider myself a 3D artist (I am not, since my major app. is Photoshop &  2D/still creative digital imaging); I only use ZBrush - if so - as a part of my 2D-workflow. 
Here´s a few examples -
this is one of my "2D/flat" custom Photoshop brushes (and its behavior in *gif animation below) that I created from a photo (that I took some time ago while photo-experimenting with light effects .. )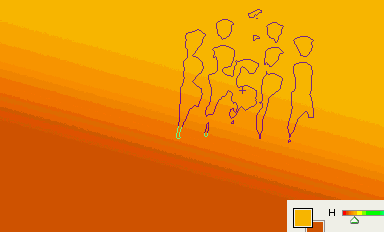 .. and this is a "ZB Alpha" version of the same brush,
and - a few examples of how it works combined with either 2.5D or 3D sculpting brushes ..

+ some more different brush testing/practicing examples
(2D Photoshop brushes)