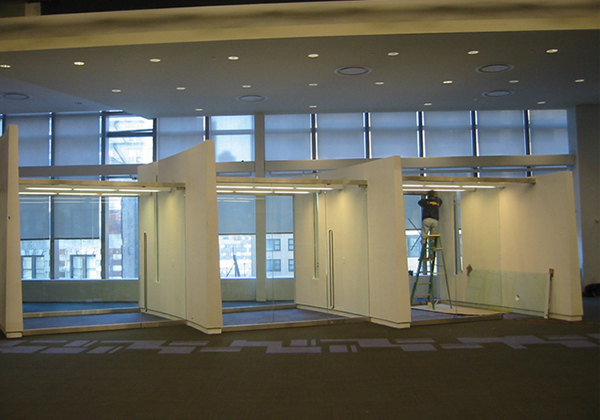 The new CNNfn office headquarters and broadcast studios were located in the Time Warner Center at 59th Street & Columbus Circle in New York City. The project was part of a network wide launch of the new CNNfn
channel. The project encompassed 2 partial floors and included designing the executive offices, custom workstations for the newsroom, breakrooms, conference room, green room and several broadcast studio.

The new broadcast studio in particular, was designed to be a flexible space with movable walls and platforms that could be configured in different ways to accommodate various news anchor/ camera positions. The studio was intended to blur the boundary between broadcast area and typical newsroom office space. Instead of a typical approach to a broadcast set where it is confined within the walls of a "blackbox" studio, the CNNfn set uses the whole office floor as potential "Live" newsroom broadcast space. To accommodate this, studio lighting grid and camera power and A/V infrastructure were located throughout the floor.