Lifestyle Campaign
Metro Cars wanted to expand the perception of luxury transportation beyond special events. The primary goal was to target the evolving, fast paced, suburban and urban lifestyles: Live, Work and Play.


Green Transportation
Metro Cars has converted their fleet of sedans and Detroit Metro Airport shuttles to propane becoming the first "Green" transportation provider in Southeast Michigan.

Florida Extension
Metro Cars expanded it's fleet to cover all of Florida. In this expansion they acquired several companies, each with it's own locally recognized identity. The goal was to unify the different looks
and messages into one parent brand. (The vehicle photos were supplied from multiple "sources").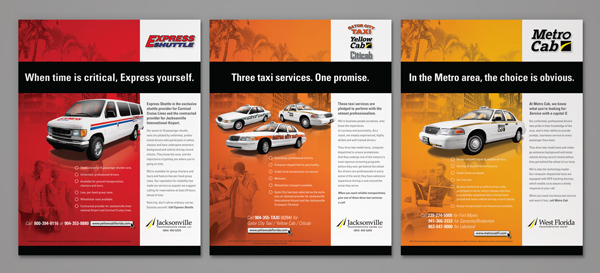 Website Design
The website was redesigned to feature detailed information and reservations for both Michigan and Florida locations, as well as incorporate the rebranded direction. Additional screen shots . . .    http://behance.net/Gallery/MetroCars-Website/278646