St Transmission ist eine sans-serif, welche sich für den Mengentext eignet und sich genau so freut wenn sie im Headlinebereich sich austoben darf. Erst hier werden die markanten Merkmale und das Wechselspiel aus gewohnt harmonischen Kurven und hart abknickenden Geraden deutlich. Trotz dieser sehr eigensinnigen Merkmale passt  sich die St Transmission harmonisch in jeden Text ein und führt den Leser immer wieder gerne ans Ende der Zeile und somit auch ans Ende des Textes.St Transmission wird in 7 Schnitten jeweils als Regular und Italic angeboten.
Thin, Light, Regular, Medium, Semi Bold, Bold und Extra Bold.Einzelne Schnitte sind für $ 19,00 zu haben. Ein komplettes Schriftpaket mit allen 7 Schnitten plus der dazugehörigen Kursiven kann man für $ 149,00 erstehen.Wer sich noch nicht ganz sicher ist, kann erstmal die beiden Einzelschnitte "Thin" und "Extra Bold" kostenfrei bei myfonts.com runterladen. Wer noch mehr will kann sich auch noch als Promo von meiner Seite die St Transmission Condensed Thin und Extra Bold runterladen.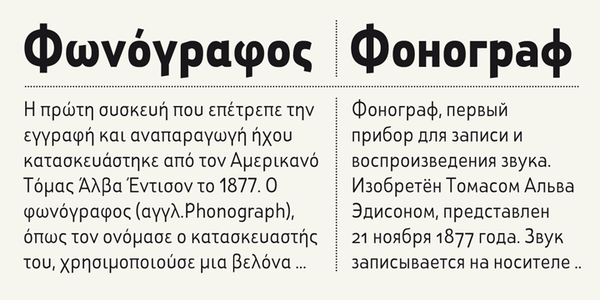 St Transmission will be delivered in 7 weights (regular and italic). 
Thin, Light, Regular, Medium, Semi Bold, Bold and Extra Bold.
Single weights cost $ 19,00. The whole package is at $ 149,00.You can downlaod 2 weight ("Thin" and "Extra Bold") for free at myfonts.com. If you want still more you can also download the promo St Transmission Condensed Thin und Extra Bold package at my website.