Jamie N Kim & Mo Manager presents:

IMAGINING MOZAMBIQUE
A TRAVELLING GROUP EXHIBITION                           
The Motivation
Colonization,civil war, natural disaster and economic instability have plaguedMozambique which has led to widespread uncertainty for tomorrow'syouth. What can the children of today in Mozambique create to changetheir destiny? What will peace and prosperity look like in their 21stcentury? Will the future be bright? Or will the cycle of despaircontinue?

This exhibition will consist of various works of art and a smallphotography section consisting of a compilation of Mozambican imagesthat are given to artists as inspiration.

The intent of Imagining Mozambique is to create thought provoking artthat will bring attention to the day-to-day life of the children ofMozambique. Further, we hope the exhibition will open a largerconversation in the media about the situation for children inMozambique and ideally inspire people to act in one form or another.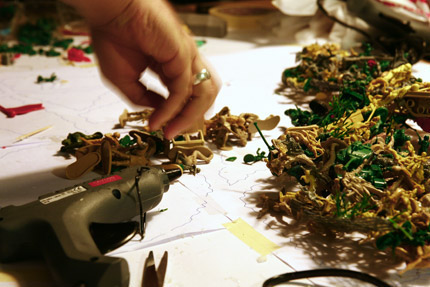 Designed by Federico Galvani
Photographed by: Federico Padovani
With the support of: Jamie N Kim, Mo Manager and Wieden+Kennedy

Rational
Interested in the project and knowing too little about the issue of Mozambique, the first thing I did, I always do so, I entered into a search engine that word. It is interesting how a so superficial approach sometimes suggests effective initiatives.
Of all the information I have gathered, in the end I have been impressed that the first words you read on the Wikipedia entry Mozambique are: from 1977 to 1992 the country was traversed by a long civil war.
I was born in 1977 and I remember very well my 1992. It is difficult to dive into the reality of a childhood lived in the middle of a bloody conflict. Many small lives that has been denied the right of the game. I imagined a country torn apart, I thought of something like that for me the war was only a game. I thought of the soldiers who, abandoning their shape, piled one over, tell us a bit of recent history of humanity.
The Context
In 1991, after a visit to Mozambique,Barbara Hoffman founded ASEM -- a non profit organization which aims tohelp Mozambican children who are victims of a long civil war as well asdifferent natural disasters, which have devastated the country andprevented people from becoming self sufficient.

Over the past 17 years, ASEM has offered children an alternative toliving life in the streets, abandonment and rejection from society.Various centers have been created to provide shelter, education, andfood to thousands of children. Cultural and sports activities areorganized and play an important role in the psychologicalrehabilitation of the children.

A large part of ASEM's mission is to retrace each child's history tohelp him or her find their families and evaluate the possibility tosend him or her back to the original community. This process involves astring of visits in the possible foster family, after which the childis left free to choose. After the process is completed ASEM assures afinancial support: to the child, so s/he might go on to school; and tothe older children, so that they may start on a job to provide themwith a minimum of security in their life. ASEM continues to visit thechildren for two years subsequent to their return into the family, inorder to make sure they are confident in the new environment. This is away to help not only the children, but the entire community intorecovering a social and cultural balance that was torn apart by the war.

Donate!