This central campus area links academia and the community, and is bound by existing buildings, a proposed addition, and the lake and community pathway. This work was part of Grand Prairie Regional College's proposed campus expansion, located in Grand Prairie, Alberta. I was the lead designer responsible for preliminary design, drawings and renderings.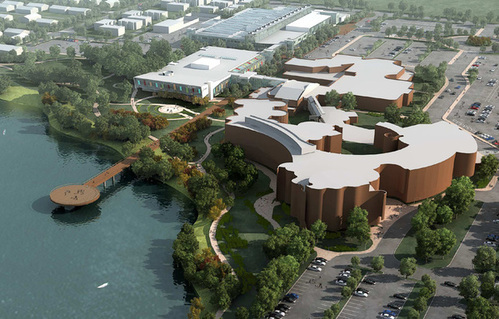 A proposed new campus building meant significant impact to circulation and an opportunity to accommodate celebrations, mitigate cold weather, and integrate aboriginal and other cultural traditions.

Working with academic staff, I developed 3 spaces, celebrating the movement of the sun, at once honoring the journey of learning and a universal symbol of spirit that is not culturally specific. The central amphitheater provides a warmer micro-climate, blocking wind from the lake and capturing south-facing sun. Celebrations, lunch breaks, and pickup games are all accommodated in the design.

To improve the connection to the beautiful lake, the main pedestrian spine is extended into out into the water, creating a much dramatic experience.