EYE SPY / EXP / PORTUGAL / 2003 / 3'50" / COLOR / EN
 

A pixel as a perfectly square dot.
A body as a perfect place.
A sign as a direction.
A machine as God.
A tv as a meeting point.
She's on auto-pilot...
 
 
CREDITS 
Creative Direction
/
Alexandra Mendes
Direction 
/ 
Alexandra Mendes + Helena Silva
Script 
 / Alexandra Mendes
Actress 
 / Pauline Cailliau
Voice-off  
/ Alexandra Mendes
Music 
 / Boards of Canada [Warp Records]
Design
/ Alexandra Mendes
EYE SPY
is an experimental short film, written and directed by Alexandra Mendes. It's a first experience in video. An home-made / no-budget production. An experimentation with various machines that surround our everyday life: a handy cam, a living room tv, a video home system, a digital photo camera, a mini disc and a personal computer. The result is a layered visual display of information. An attempt to distract you as well as to gain your attention. You'll sit and watch to a break of all notions of time, space and memory. You'll be dared to follow a structure that is already corrupted from the beginning, entering a voyeuristic journey captured by the lenses. You'll be seduced by the voice of your own conscience. You'll start questioning if you are watching or being watched. 

"And what do you do? ...you sit and watch!" 


 
EYE SPY
remastered  Sunshine Recorder, a song from Boards os Canada's album Geogaddi (2002). Boards of Canada are a scottish duo based at Warp Records. They create experimental electronic music, blending sounds of real instruments and voices with sounds of home computers, borrowed synths, drums and tape machines, and found sounds from radio and tv.
 
EYE SPY
participated in a wide selection of short film festivals worldwide, through Portugal, Spain, Italy, France, Germany, UK, Lithuania, Mexico, Macao & Japan. It has been awarded  Best Experimental Video at Fest ~ New Directors, New Films Festival, in 2004. The Portuguese Short Film Agency -
Agência
has been promoting Eye Spy since 2004 in film festivals and short film markets around the world.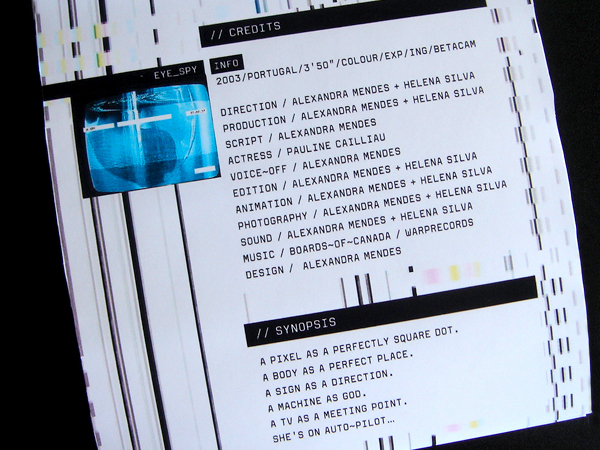 2003 / 
Dot Mov
 ~ Shift Digital Film Festival / JAPAN
2003 /
Ovarvideo
~ Ovar National Video Festival / PORTUGAL
2003 /
Fike
~ Evora International Short Film Festival / PORTUGAL
2004 /
Fest
 ~ New Directors, New Films Festival / PORTUGAL
2004 /
Festival Némo #6
~ Images Expérimentales Internacionales / FRANCE
2004 /
Cannes Short Film Corner
 ~ Marché du Film / FRANCE
2004 /
Portuguese Video Showcase
~ Videoteca Municipal de Lisboa / PORTUGAL
2004 /
Curtas Vila do Conde
~ International Short Film Festival / PORTUGAL
2004 /
Backup Festival
~ New Media in Film / GERMANY
2004 /
Imago
~ Cinema & Video International Film Festival / PORTUGAL
2004 /
Interfilm Berlin
~ International Short Film Festival / GERMANY
2004 /
Art Non Stop
~ International Arts Showcase / PORTUGAL
2005 /
Marché du Film Court
 ~ Clermont-Ferrand / FRANCE
2005 /
Fantasporto
~ Oporto International Film Festival / PORTUGAL
2005 /
Macao International Arts Festival
/ MACAO
2005 /
Festival Némo #7
~ Images Expérimentales Internacionales / FRANCE
2005 /
Caminhos do Cinema Português XII
/ PORTUGAL
2005 /
Festival Internacional de Jóvenes Realizadores de Granada
/ SPAIN
2005 /
Portuguese Short Film Showcase
~ Videoteca Municipal de Lisboa / PORTUGAL
2005 /
Timeline
~ Bienal de Vila Nova de Cerveira / PORTUGAL
2005 /
Videolisboa
~ Lisbon International Video Festival / PORTUGAL
2005 /
Tinklai
~ International Short Film Festival / LITHUANIA
2005 /
Invideo
~ Exhibition of Video Art and Cinema Beyond / ITALY
2005 /
Up And Coming
~ International Film Festival / GERMANY
2006 /
ISFF Lille
~ Festival International du Court-Métrage / FRANCE
2006 /
Videoroom
~ Art Trails ~ Brighton Fringe Festival / UK
2006 /
Portuguese Festival
~ Festival Internacional de Artes e Cultura Portuguesa / SPAIN
2007 /
Ollin Kan Festival
/ MEXICO
Best Experimental Video
/ Fest ~ New Directors, New Films Festival / 2004
Agência / Portuguese Short Film Agency