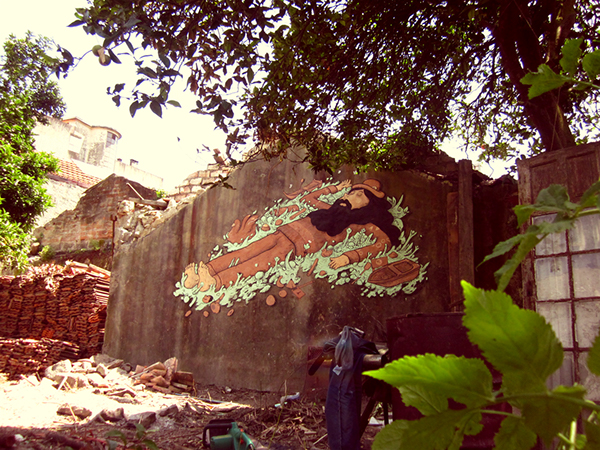 Wall in Porto, Portugal, at the great João Moura´s garden.
Dedicated to him and to my dear friend Adriano Miguel Sequeira, who loves love, wholegrain bread and to play guitar.
Muro en Porto, Portugal, en el jardín del genial arquitecto João Moura.
Dedicado a él y a mi querido amigo Adriano Miguel Sequeira, que ama el amor, el pan integral y tocar la guitarra.
Una tarde en el barrio de La Saïdia, en una escuelita cristiana, Valencia. 
Inspirado en la idea del crecimiento, la persona de Pablo del cielo con sus dibujos llenos de certezas y en las Punas Andinas que algún día veré.
En Barcelona con Elena a.k.a unamesacamilla. Colaboración fluida y enriquecida por la comida de Quique Lautrec, Daniel y Gerard ilustrando de fondo.
Con Dorota Tadeusiak na Rua São Victor, Porto!! Lindo bairro, Obrigado.
With Dorota Tadeusiak in Oporto, thanks a lot to the neighbors!
 En Poblenou, Barcelona, colaborando con mi amiga Elena.