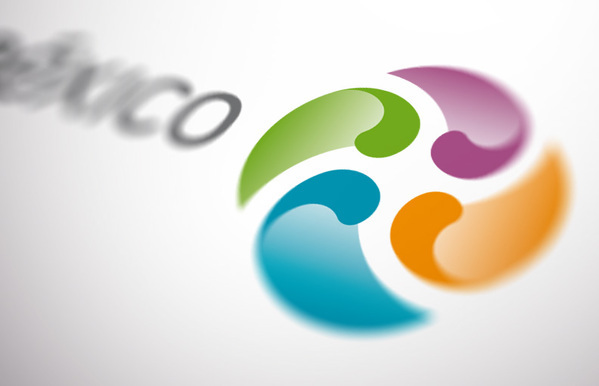 Logo design for Imaginamexico Company 

This logo shapes the association of three concepts: a) the vision of the company, based on 4 corporate axes (resembling human axes: physical, emotional, intellectual and spiritual); b) the guiding concept of transformation; c) the golden ratio, representing perfection, mysticism and beauty.

Imaginamexico brand was achieved with a colorful symbol made with four stylized nautilus shells (one for each axis), designed with the Fibonacci spiral. The shells evoke growth, evolution and transformation. Furthermore, their arrangement also reveals a four-helix pinwheel, a traditional handmade toy. The pinwheel and the colors of the logo bring to mind the mexican culture.

The name was developed with an original typography, resulting in a simple, rounded, monolinear lower-case type. The length of the name and the symbol were also based on the golden ratio proportions.
Diseño de logo para Grupo Imaginaméxico

Este logo constituye la asociación de tres conceptos: a) la visión de la compañía, basada en cuatro ejes corporativos (retomando los ejes humanos: físico, emocional, intelectual y espiritual); b) el concepto rector de transformación; c) la proporción áurea aplicada, representando la perfección, el misticismo y la belleza.

La marca Imaginaméxico fue lograda mediante el desarrollo de un símbolo lleno de color, elaborado con cuatro corazas de nautilio estilizadas (una para cada eje corporativo), diseñadas a través de la espiral de Fibonacci. Las corazas evocan crecimiento, evolución y transformación. Además, su disposición y acomodo revela un rehilete de cuatro hélices, un juguete artesanal tradicional. El rehilete y los colores del logo hacen memoria a la cultura mexicana.

El nombre fue elaborado en una tipografía original, resultando en un estilo de caja chica, monolinear, curvilínea y simple. Las proporciones del nombre respecto al símbolo también están basados en la sección áurea.