A 'woven' paper cover and presentation box I designed and created for world renowned Japanese Architect Shigeru Ban. He was pitching to build a project here in Sydney.

I collaborated with talented designer Greg Anderson from Trigger Design on this project. Greg art directed the report's contents and typography.
Shigeru Ban, also know as the 'Paper Architect', is most famous for his innovative work constructing with paper, particularly recycled cardboard paper tube.
The design of this cover was a complete innovation. I had never attempted or even seen something like this before, so I didn't know what to expect of the finished cover. We wanted to create a piece that followed the aesthetics and ideology of Shigeru Ban and his work: simplicity, structure, material

The cover is engineered from one sheet of paper, woven in on its self.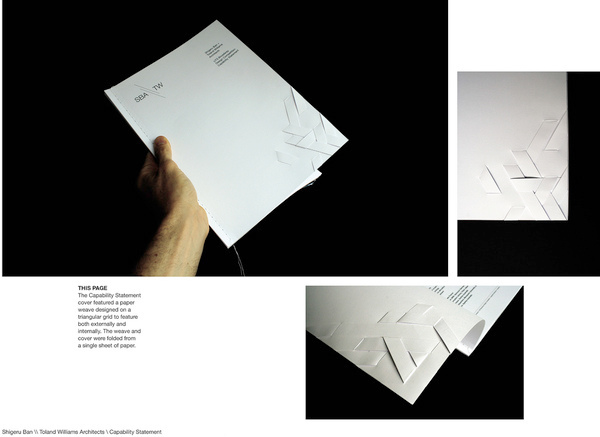 The presentation box had to house the A4 report, as well as two CD's. We designed a triangular window in the top of the box so the type on the front cover of the report was visible when the box was closed and presented to the design committee.

I used both white and brown card in the construction of the box, as a nod to the simplicity of Japanese design and the work of Shigeru Ban himself.
We took the triangular detail and applied it across all the elements of the packaging suite.