Queen Victoria Hosital is one of several health care projects I've undertaken. The landscape plan included all open space and patio design for dementia care patios in a new extended treatment addition to this hospital in Revelstoke, BC. I was the lead designer and project manager, responsible for exterior program development, design and construction document preparation, coordination, and construction administration.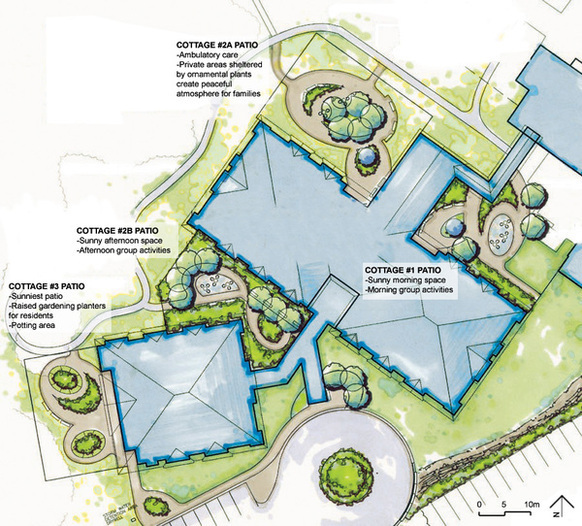 Range of Mobility Challenge:

 Residents are bedridden, wheelchair bound, and ambulant. Patios will have a mix of users, including family and friends who are mobile.


Opportunity:

We selected benches that are ergonomically designed to assist sitting and standing up, and are durable and weather resistant. Moveable chairs and tables can be arranged to accommodate any size of group.



Barrier Free Challenge:

Residents may not be accompanied by caregivers, so minimizing hazards is important.


Opportunity:

Patios are designed as circular looping paths to assist in way finding and to minimize dead ends. Grading design minimizes slope to 2% wherever possible. Furniture selections are Plastisol coated to ensure that they are smooth and free of sharp edges.



Cognitive Challenge: 

Residents with dementia navigate and engage in the environment  by gathering more sensory rather than intellectual information.   They need a balance of calming and stimulating environments.


Opportunity:

Plant selection is centered around visual, tactile, olfactory, auditory, and taste sensory stimulation for residents who have patio access. Residents can also enjoy the sights, sounds and fragrances of the plants from within their rooms. All plants are non-poisonous, and many are edible herbs.  Access to the surrounding forest is also provided via a path that connects patios 2A through 3.



Overheating Challenge:

Summers can be hot, and residents will be sensitive to solar exposure, particularly in these relatively exposed patios.


Opportunity:

Solar exposure during the hottest months is moderated through appropriately located deciduous trees. Chairs and tables can also be moved to accommodate the sun, and extend use of the patios into the shoulder seasons.