insight | The main idea is based on the game "Hell or Heaven", which is very popular between polish children. Enso is divided between grand-floor and basement, where is luxury Enso night club. Over the club is placed Enso Lounge & Restaurant.
So we found that Heaven (Lounge) and Hell (Club) idea is paralel, axiomatic and natural (typical symbols for lounge and wild entartainment) for that services.

We advice the client to buy www.karmelicka52.eu domain (the street adress of the Enso) as a base, where we placed Heaven and Hell links to the existed before original links to the Club and Lounge (of course we change all layouts ;D).
Based on old web hypertext idea, it's possible to jump from Heaven to Hell subdomain and vice versa, and the same time to main page and return.

The unification of the subdomains' layouts was needed to present that different parts of Enso are exactly the same business and they are easy to find at the same place. For everyone something special.
For better identification, where user exactly is, we prepared light and dark backgrounds for adequate sub-services, such as the logotypes at dimmed banner in the header (which it was exactly customizable gallery idea btw.).

The main page is prepared to present, that user decides and choose, what he wish.
All of that we'd like to present here:


The main idea for subdomains developing was design very easy, elegant and fashion layouts.

We decide to develope full of features instead of layouts full of fireworks, sometimes they are small, maybe invisible at first time, but very usable and practice such as customizable and scrollable promo box, calendar connected with line-ups and table booking, easy to read line-ups tables (with different criteria of previewing) including instant links to gallery, downloads items and sets, today info about promos and events, extra idea for gallery presented as main banner, mailing systems or system uploading and managing subpages for any party - all of them are managed via flexible and smart CMS system by Subey www.subey.eu.

Info: because this page is 2008 page, today a few of the features don't working, they are disabled or changed by client (e.g. gallery link in main menu, which is not originally part of layout).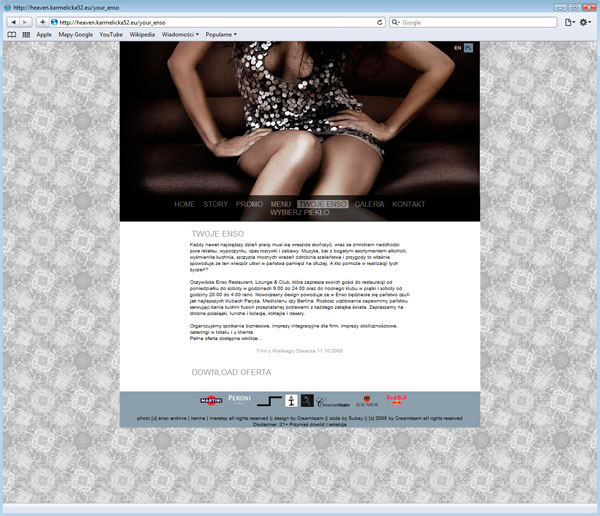 Client: Enso Club Lounge & Restaurant
Agency: Creamteam
creative director: mareksy
art director: irenne
programming director & coding: Subey
photo by Enso archive, mareksy archive, stocks