Concept Phone "Magic Stone"   for "Design the mobile phone of 2020"
A contemporary mobile phone must maintain such functions, as: mobility, constant Internet access, access to the documents, games and to give the best possibilities and means of communication and contact. A new generation mobile phone "Magic Stone" gives all these possibilities!
The revolutionary approach lies in the fact, that a customer can model absolutely any shape of the mobile phone's case, with absolutely any color and different patterning and pictures on it through an internet page with the help of a simplified scheme. When the modelling is completed and the order is paid for, at the factory a needed case is created, painted and stuffed with electronics at the quick prototyping industrial machines. A customer will create an image of a mobile phone of his own dream. Year after year the need of self-expression is growing and the "Magic Stone" gives the possibility to create one's own brand, underlining individuality, he gives freedom and a smile because of that, a customer uses his own style, his forms and, at the same time, his mobile phone is the most producible.
With the mobile phone "Magic Stone" each customer will be able to feel himself a creator and to see a real embodiment of it, with the best quality and with the newest technology. The customer will be able to see the dream's embodiment and the unlimited possibilities of communications.  The "Magic Stone" mobile phone does not require a power charge, its case is covered with a nano material, converting the Sun light into the energy for your phone feed. At your phone's display you can watch how much charge is left at the battery and how strong the power of the light which charges the battery is. Also the phone has an additional wireless charging, the battery of phone is charged from theelectromagnetic fields.
The classic "Magic Stone" case is minimalistic, but, at the same time, it is ergonomic. Its screen, with the "touchscreen" function, situated on the case, is necessary for the quick operation the minor functions, such as: an incoming message reading, an incoming call acceptance, the mobile phone main menu entrance, turning on the big screen mode and others.The big screen mode is a projection type holograph, which is created by a laser. The laser bunches can read the motion in the holographic projection field, what gives the additional possibility to operate the mobile phone. This also allows changing the function of the screen itself (to rotate the holograph, to decrease and to increase the projected picture area, to move the projection direction).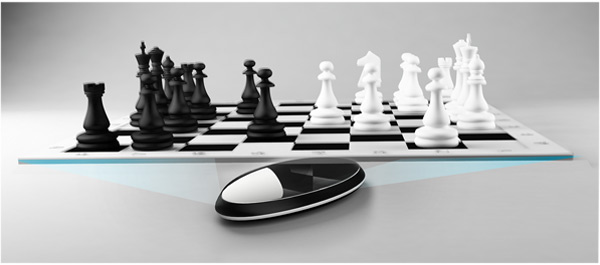 The "Magic Stone " mobile phone will be the most understandable and close to a customer, as we give each of them the possibility to build his own brand himself, enclosing his own individuality into it. The "Magic Stone " mobile phone is created for the customer's joy and comfort!
by 
Mukomelov Studio