Hi creatives! This is my tribute and i hope it will help me to find Partners and Agents abroad.

Now i'm a Partner and Creative Director of the Superheroes corporation, marketing director of Green Battery Gmbh (innovations in solar energy), founder of the branding agency Konovalov.XCLV (Ukraine, Germany, Russia, United States), a partner and art director of famous photo magazine No comments, the founder and leader of the social movement Antibank.
"In 2002, Victor Konovalov officially became the youngest creative director in the world. Worked with international clients, has won several advertising festivals. A year later founded his agency Live, and in 2005 sold the brand in the territory of Ukraine to Microsoft and founded in Ukraine and Russia branding agency Konovalov.XCLV. In his own portfolio are brands of international companies, startups, an exclusive design. Aged 25 Konovalov has three master degrees plus Art and music educationsRegularly read the master-classes in Germany and Russia on its own formula of analytic approaches to branding XCLV Brand Formula (forthcoming second edition of the same book with expanded international case) The most powerful side of Konovalov is generating innovative ideas in the field of branding, industrial design, business consulting. Now Victor in search of international partners to access new markets and implement his ideas"
Here in one presentation you can see selected projects

Overview

ORLE - Organization of Russian speaking Leaders in Europe. This organization is aimed at personal and professional development of young people, the realization of the informational, educational and training programs.

Challenge
The key challenge was to create a brand, which positions company as a training organization that helps young peple to find most effective ways to develop their abilities.

Solution
Naming: ORLE Organization of Russian speaking Leaders in Europe.
Logo:  The brand platform is:
Number of opinions
Union of like-minded persons
Activity and speed

The xclv.brand formula is:
Type: strong and dynamic way of writing.
Shape: bubble which symbolizes some number of people and its dynamics is a symbol of development and purposefulness. Blue is corporate color of ORLE.


BlackBox 2 - unexpected and provocative publication created by well-known persons in the advertising market for designers, by brand managers for brand managers.

This book had separated chapters, gathered in an improvised box-box 205x205 with cutting - in which six books, booklets, each with a distinct design and layout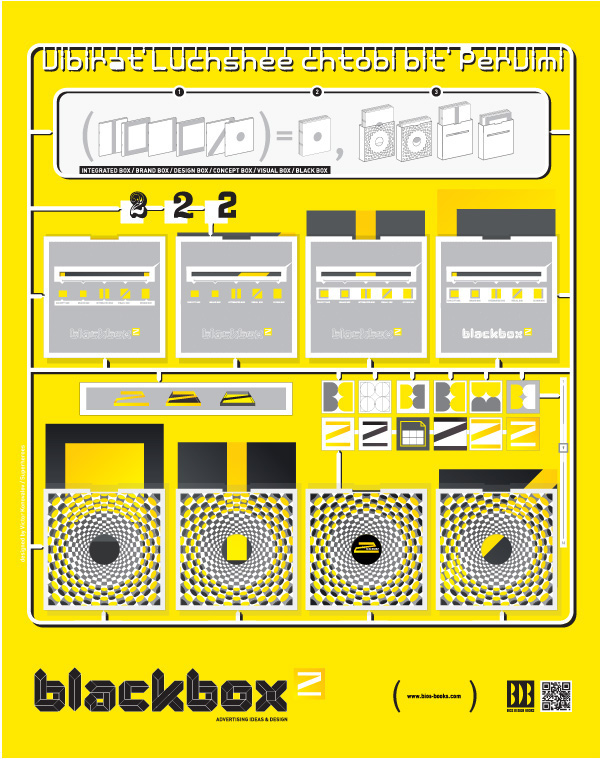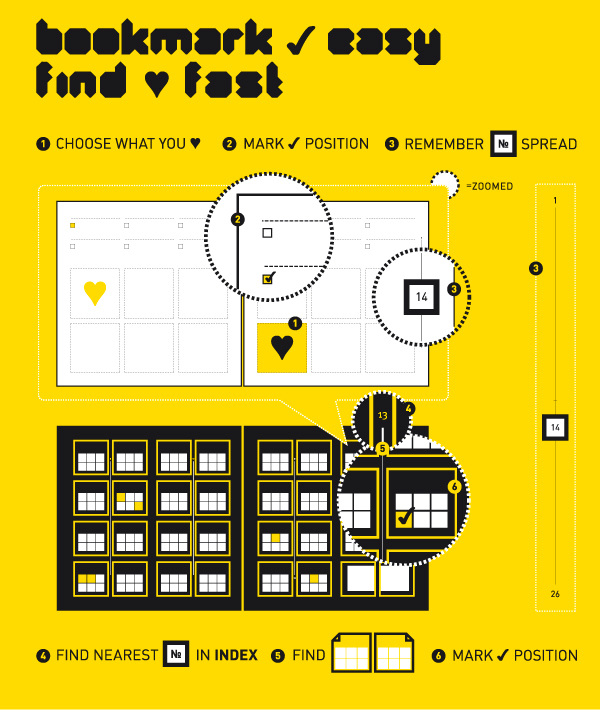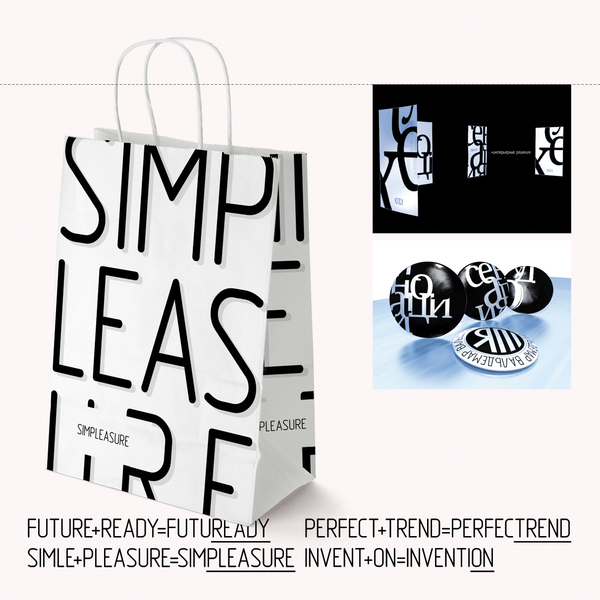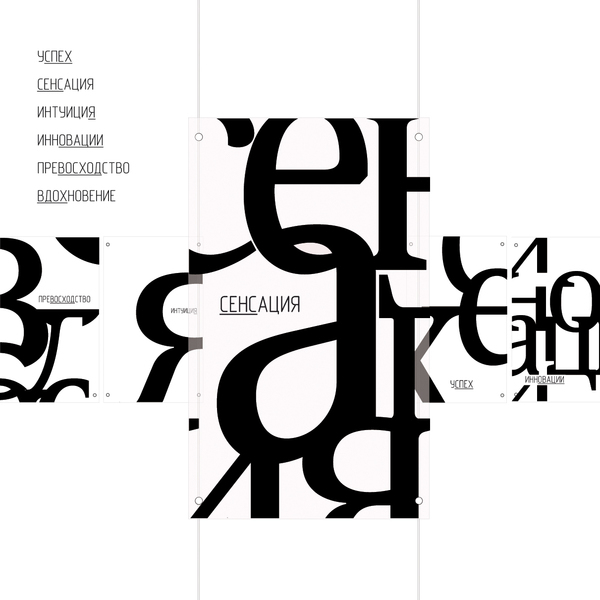 The key challenge was rebranding. Naming: ART-CAPITAL
Slogan: Next level

Logo: The brand platform is:
Growing and moving to the aim
Pointer - a symbol of development
Button symbolizes push and movement

The xclv.brand formula is:
Logo is a button of growing and moving to the aim, to next level. Red color is dominant.

We are made a lot of stuff. The main idea of advertising is a Million Dollars question - the intuitive most important question in the life

ART-CAPITAL has been operating in the stock market since 2000 and is one of the most successful Ukrainian investment groups in the segment. The company has been progressing very dynamically in the context of formation and development of the stock market in Ukraine. During a short period of time ART-CAPITAL has managed not only to gain a foothold in the young market, but also to make substantial progress in the most promising business activities: brokerage services, M&A transactions support, asset management.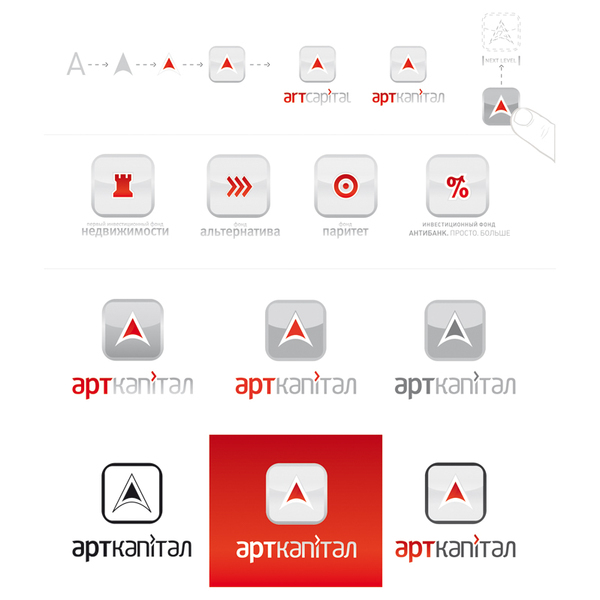 Antibank is a social movement against bank system in Ukraine. Victor Konovalov created everything include event, brand, pr, fighting with government. We are win in a few positions against stupid laws


Overview

"Openmind technologies" is consulting center, founded to create and adopt new methods of professional and personal development. Center provides corporative trainings, staff matching, consultations of effective dirrection and coaching.

Challenge

The key challenge was to create a brand, which positions company as international training center, which provides various branches of activity.

Solution

Naming: Openmind technologies

Logo:  The brand platform is:
1. Diversity and flexibility
2. Ability to change
3. Equality and opennes
4. Unification and connection
5. Space for activity

The xclv.brand formula is:
Type: connection of words "open" and "mind" by ligature and two colors.
Shape: many-colored displacing rings, that symbolize dynamics and flexibility.
Overview
No comments group (Nc:group) - company that contains such branches as Nc:Web, Nc:Publishing, Nc:Event, Nc:Creative, Nc:Photo.

Challenge
The key challenge was to create a brand, which positions company as a developer on various branches of business and activity directions

Solution
Naming:  No comments group
Logo:  The brand platform is: Different activity directions (variety and flexibility) / Circles as a symbol of group

The xclv.brand formula is:
Type: strong and static way of writing.
Shape: different circles that change their colors according to the type of activity.
WE applies a level of forceful intensity and expertise in analyzing the cash flows of the fund(s) it advises and in analyzing the cash flows of the advisory firm itself
WE wishes to protect its clients' assets through careful thought and foresight, and by always adhering to Keynes advice: The markets can be irrational longer than you can be liquid

So Konovalov created Naming WE (Whisperer Empirical) and brand formula: WE ... (WE wishes, WE applies, etc)
The main idea is a sign ">" and source united from two squares =  new common square WE

Intercom by Konovalov is made to surprise. On the external side welcomes visitors found rarity - Eye of famous commander Kutuzov. On the inside - was found the ear of Van Gogh. What could be more valuable:) intercom is fully functional, the eye - the camera, the ear - the speaker. In the dark eyes shone a different light depending on the mood of the owners (the color is easy to set). Red pulsating means irritation and reluctance to accept guests, green wash - a very positive mood


Superheroes is innovative branding agency. Each person is "superhero" in his field (design, typography, branding, etc.) So they are so different but united a team, thats why each letter is from different type