Odooproject Identity
identity design for solar decathlon team
of budapest university of technology and economics

Hidden Characters, 2011-2012
Solar Decathlon Europe



The Solar Decathlon Competition is an international innovation competition between the best universities all around the world,organized by the U.S. Department of Energy and the Spanish Government since 2002. The goal of the contest is to popularize the usage of solar energy in architectural solutions and to call into being the social and market support of green technologies.
http://www.sdeurope.org



The shape of the house was inspired by the emphatic house-court relation,which is a typical attribute of the traditional Hungarian house, where the closed space and the openair court creates the living space.The typical uses within the lot are always changing according to the seasons and the sun's position on the ecliptic, to which the house can always react. 



Visualization of the house by Márk Szőke




Identity concept

Our major premise in designing identity for the house has been idea that the alternation of day and night as well as the passing of seasons has an effect on tenants as well. Since we are aiming for an organic relationship between visual identity and submission, our goal is that, much like it effects the house, the Sun play a central part forming visual identity as well.



Dynamic Identity
Due to the surge of virtual media as well as the lack of challenge their technological implementation would pose, dynamic logos have become quite common, probably even boring. However, our perception is that solutions with substance, which are not mere submission to trend, are becoming more and more rare. What inspired us to create a dynamic logo was the thought of involving solar energy. That is to say, it is the natural dynamics of Earth and Sun that lead us to construct a dynamically changing logo. A further interesting point is that different carriers of our visual identity will feature different versions
of our logo.



At the core of our concept lies the recognition that, in projecting the image of the building as shadow, the Sun itself does the task of graphic design, highlighting just the parts of the house which are engaged in collecting energy. Thus, the Sun is in dynamic interaction with not only the building, but the logo as well.
Revolving around the Sun and also rotating around its own axis, Earth's natural movement results in a dynamics of shade and shadow which alters both within the day, and also as the days pass. The result is a rich, almost endless variety of emerging shade-shadow constellations.


Logo variations, visual language, visual identity manual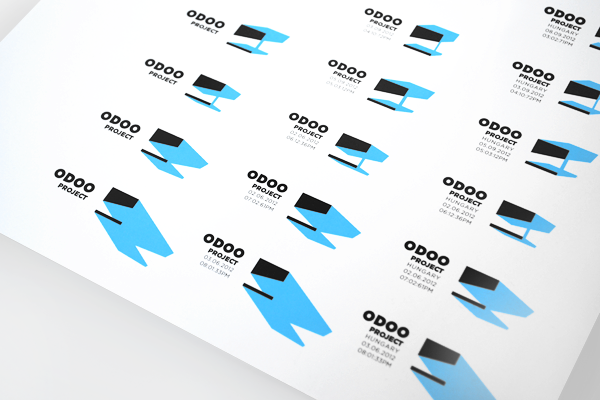 logo indicates the date and time of the shadow

Working on the logo we analyzed a Summer and an Autumn day in Hungary, arriving at a set of 11 daytime, and a single nighttime (an inverse) version in the end. These we have have found the most pleasing aesthetically.
 


Printed communication, brochures


Printed communication, poster design


Printed communication, editorial design


Posters at work


Photos by Balázs Danyi
Thank you for watching!
You can follow the
Odooproject
on facebook
Credits
Communication coordinator: Orsolya Nagy
Student team leader: Adrián Auth
Web developer: Gábor Németh
Actionscript developer: András polgár
Visualisation designer: Márk Szőke
Photographers: Balázs Danyi, Ádám Szekér
graphic design by
Hidden Characters