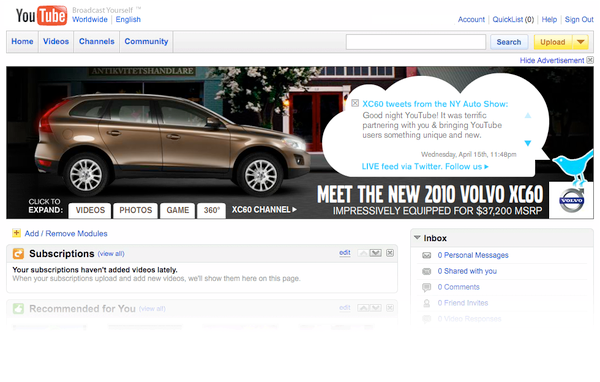 This rich media, expanding banner ad was developed as part of the U.S. launch for Volvo's newest vehicle: the 2010 XC60 crossover. It was live on YouTube's front page for 24 hours on April 15, 2009. It included several firsts:
- it was the first banner ad to include a live Twitter feed
- it was YouTube's first expanding masthead banner- it was the first automotive brand to be featured in this YouTube placement

I was at the New York Auto Show that day, sending tweets with people's firsthand reactions to trying the XC60's auto-brake feature. Users could view the day's tweets, as well as follow the VolvoXC60 twitter account from the banner. 

The banner was wildly successful and generated a lot interest, not only for it's content and the car, but for the Twitter integration. Engagement rates were double the average for banners with the same placement.
Below are screenshots from the live banner.