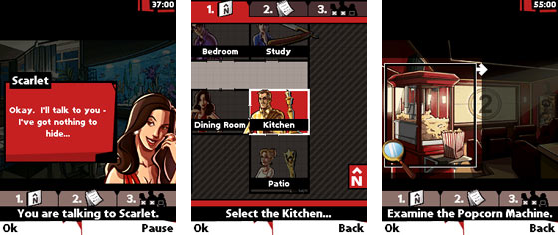 When working at EA Mobile, my second project was Clue Mobile.

Since Hasbro was also re-branding Clue/Cluedo, we were given lots of freedom regarding gameplay.  The core essence of the game obviously had to be Clue/Cluedo, but we could make new rules and new ways to solve the mystery.

As a game designer, my job consisted in creating several game concepts and presenting them to my lead designer and producer.

Once a concept was chosen, I paper-prototyped and iterated the game many times, gathering as many players as possible and play testing the mechanics.

At this point, we knew we liked the concept and core game mechanic, but how would this paper prototype translate into a mobile game?  It was time to prototype with my good old friend Adobe Flash.  Within about a week of Movieclips and ActionScript we could navigate in the mansion, talk to suspects, search objects and use the core annotation tools.

We were very satisfied and confident this would work so I went back to my desk and started to write the famous Game Design Document.

We created a level design tool so I could integrate all the scenarios and puzzles, while supporting our external writer.

You can buy the game or learn more about the project by reading a game review.
Great news!  EA Mobile ported Clue to the iPhone and the iPod Touch!
The port features more background animations, character expressions and a brilliant touch interface!
You can buy the game or learn more about the project by reading this iPhone game review.