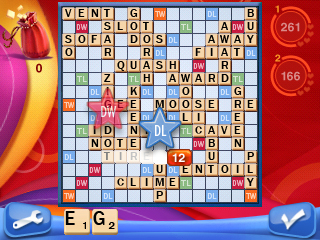 When working at EA Mobile, my first project was Scrabble iPod.

As a game designer, my job consisted in documenting game rules, new features, controls and user feedback.
After defining intuitive ways to play the game by using the click-wheel, we added features such as "Best Word" which let the game AI find the most valuable word to play at the current time.
At the end of the project, Hasbro announced they were re-branding Scrabble, hence the bright and cheerful new colors everywhere ;)

You can buy the game or learn more about the project by reading a game review.