concept of the campaign, design, creative and art direction, all copywriting & time with media planning, also logo and logotype: mareksy
photos and illustrations used in campaign: stock and mareksy all rights reserved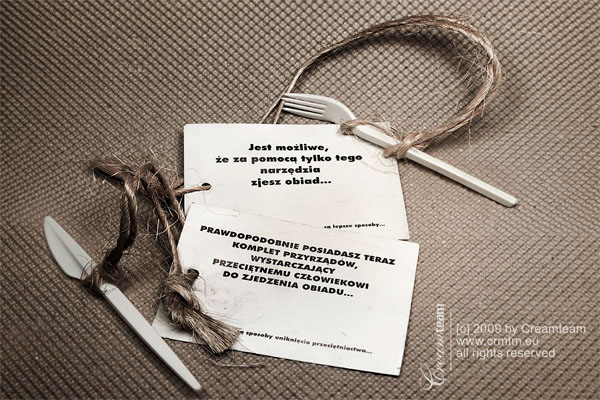 name | cutlery
about | teaser image campaign
for | small ad agency Oto Poland during changing it into full service agency
when | 1999
form | mailing
timing | 3 weeks of sending, one mail per week + 4. week as a reminder for campaign.
conditions | creative mailing and absolutely low cost, only 500 pre-selected receivers
goal | basically, receive 8-9% of response, strategically reach first serious client for 1 mio PLN (divider in 1998 in Poland between small and full service agency) at last in 3. week of campaign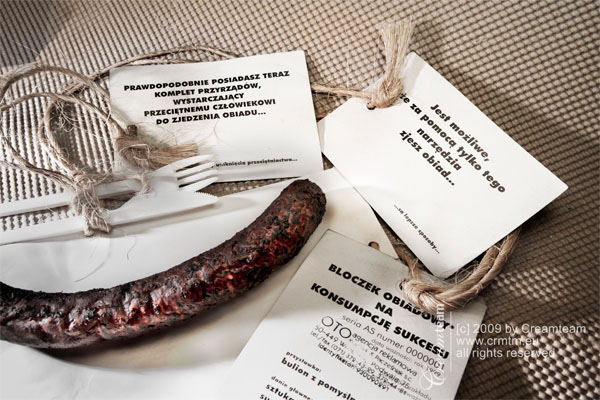 details:
We sended during 3 weeks 3 elements of typical items needed by consumption in eating-house for poor: a plastic fork, a knife and a paper dish for hot sausages.
All that have had to look so poor as possible... so I used to connection them with ad paper elements (cards) via hempten twine, which is oiled. During sending via post that oil changed the look of mailing and an envelope as well (it blemished them and damaged them look).
We needed that effect of poority as a background for luxury booklet-poster, which we arranged to send at fourth week. This poster had job to present real possibilities of company.
BTW. usage that hempten twine gave us originality, no one piece looked the same, what was "wow" effect underlined by receivers, especially from the same department.

Effect of the campaign:
We received 50% of response during first & second week, in third week we reached strategic goal: a 1 mio client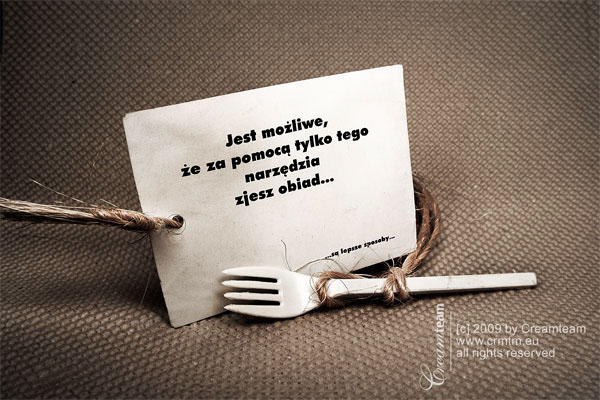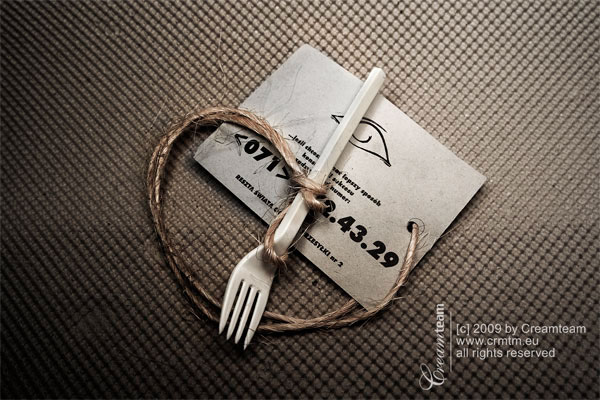 First week. The mail contains:
the card connected with disposable fork via hempen twine.

Translation: Is possible, You have good enough tool now to eat dinner... but we know better tools.
On back: Call us now or wait as rest of the world for mail No.2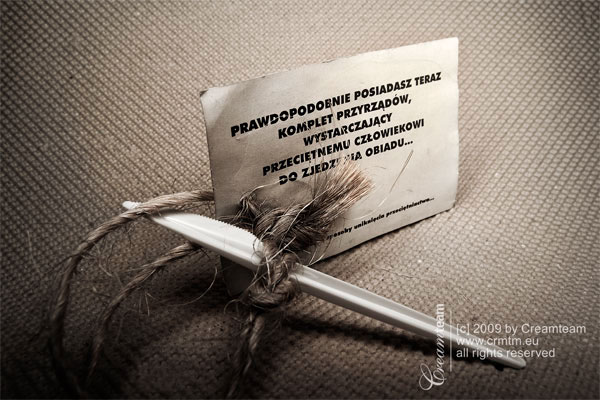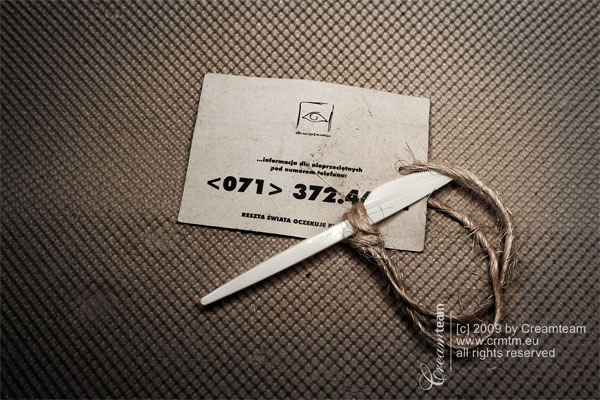 Second week. The mail contains:
the card connected with disposable knife via hempen twine.

Translation: Is possible You have now all needed tools good enough for typical man to eat a dinner... but we know, how to be not typical...
On back: For non-typical guys: call now for more info or wait as rest of the world for mail No.3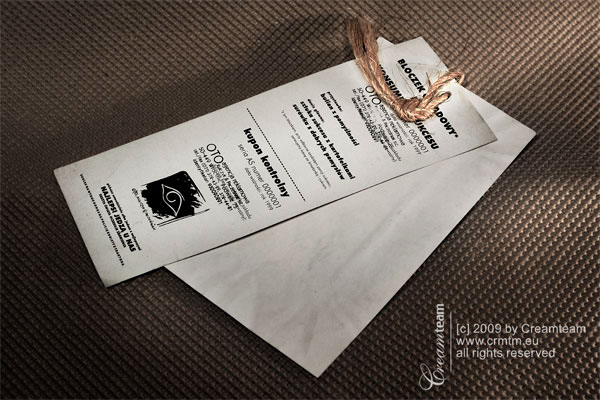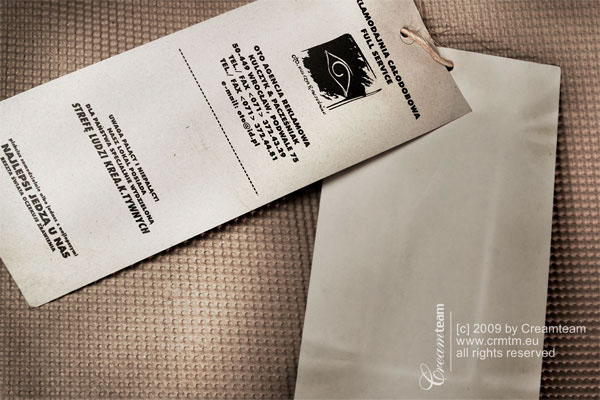 Third week. The mail contains:
the card stylized as ticket for typical comunistic eating-house for the poor, connected with disposable paper dish via hempen twine.

Translation: Ad-eating-house 24h open. Ticket for succes.
On back: The best eat with us! No questions!

For "difficult" persons we prepare "typical" booklet as fourth mail.

Based on my observation of behaviour many people from marketing divisions, we prepare that booklet as a poster-reminder also, with pretty landscape photo on back, so we expected, if all 4 mails will be ignored, maybe this poster will still used on the client's wall (as it was observed) and it will be working for company because logo and data on it.

That booklet's quality was in opposite to 3 mails we sended before for underline the real quality of company.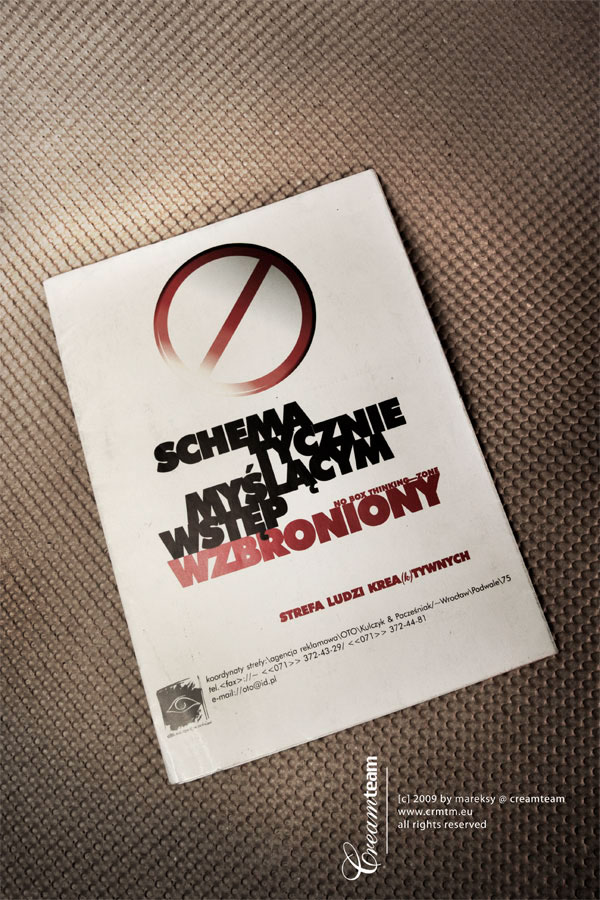 Fourth week. The mail contains:
the luxury booklet, folded to A4 size, with many illustrated joke-headlines about us...

Translation: No way for box-thinking! CreaCtive people zone.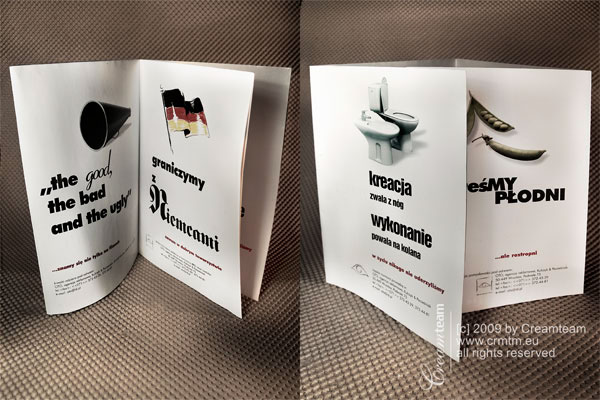 All headlines have the subheadlines conducted them in the same style. Acopy for any page is a serious explanation of theheadline-subheadline concept.
...and B1 size poster  (here only photo) on the back of the booklet as a reminder.