Mother India - 21st Century Remix
Produced by arts development agency Kala Phool, Mother India - 21st Century Remix is a project I have been involved in since it's inception in 2007. It is a re-presentation of the 1957 Bollywood classic of Indian cinema "Mother India", delivered in a live environment as a silent abridged version of the original with an entirely new musical score, written and performed by DJ Tigerstyle, Matt Constantine and David Shaw. I was brought in at the beginning of the project to edit the film in response to the new score, create the branding and provide technical support during rehearsals and performances. 
We have received fantastic reviews and have been lucky enough to take this production to an international audience, performing in such places as Sydney Opera House, Melbourne Arts Centre, Prospect Park Brooklyn NY and Singapore Arts Festival as well as many UK venues.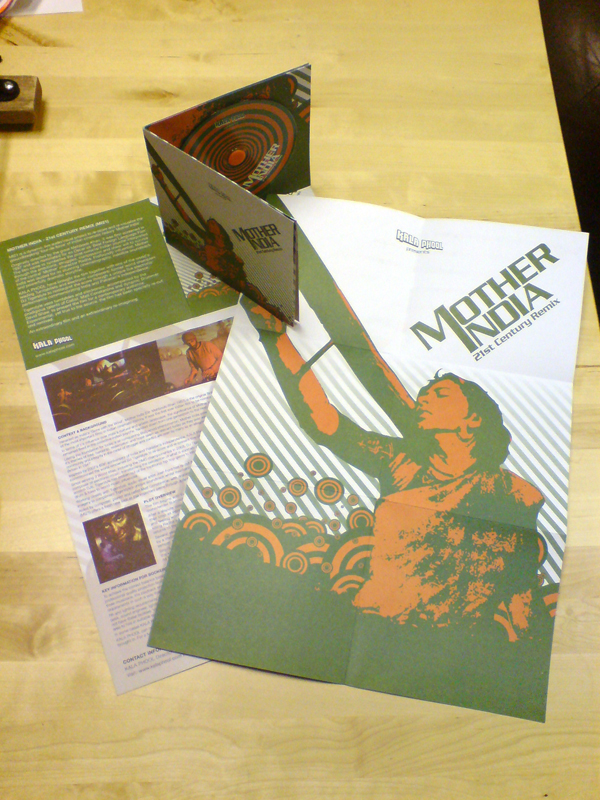 Press pack created for MI21 project during development and pre launch performances with original branding.
When folded it is a paper cd case. When unfolded it becomes anA3 poster with info in the reverse.
A slight rebrand as we began touring the production.
Soundcheck at the Singapore Arts Festival 2011