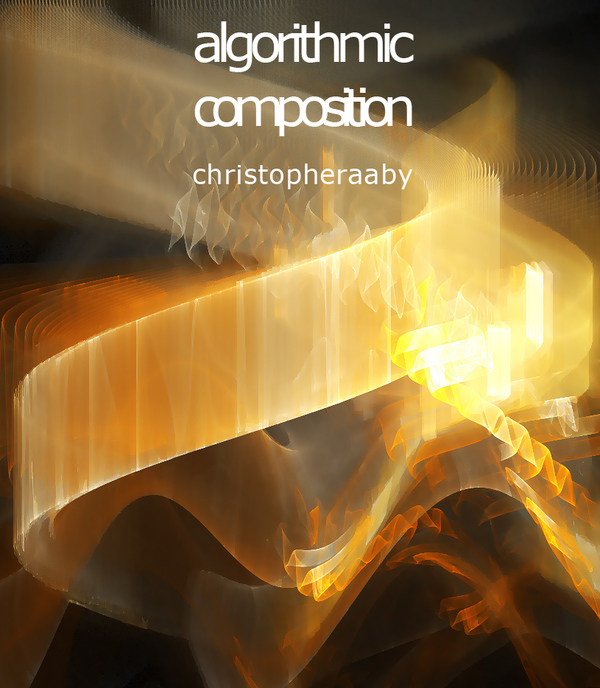 For the above picture I made a fractal, because although I may have opened a program and pushed some buttons to create it, a computer algorithm is what brought it into being. This relationship between man and machine is what I wanted to explore in the musical compositions below.

Basically all of the tracks here were created entirely or partially through algorithmic means, that is - through computer applications that I either made or configured to output sound or notation. My hope is that they will retain some of the "ghost in the machine", and that the listener will be able to take a little peek into what a computer finds beautiful.


Falling petals in D
For randomised and arranged FM synthesizer

This track was made entirely from algorithm, with about 4 synthesizers and some post-production. The melody patterns were inspired by the work of Brian Eno, which I tried to mimic by computer.


Candlelight in E
For sliced guitar and percussion

The basic melody was recorded with guitar, an improvisational guitar track layered on top, and drum sounds were algorithmically placed and sliced from various household objects.


Birdsong in A
For various synthesizers and sliced guitar

The background drone was composed and recorded manually. The guitar sounds were recorded by recording notes one at a time, and then assigning an algorithm to trigger the various sounds at more or less random intervals.


Voyeur from the beyond in Gm
For sliced guitars, synthesizer and various noises

The basic melody is made up of 8 chords which are sampled in succession, and a synthesizer which I recorded manually. The strange guitarsounds were recorded and triggered in a manner similar to the above track. The clicks and pops were purely algorithmically triggered as well.


Nightflora in F
For synthesizer trio

This was completely algorithmically composed. The swells in volume are not a function of the algorithms but because of the immense compression.


Aluminium in E and Final drowsiness in Am
For sliced bass guitar, acoustic western guitar and various noises

The melody lead is a sliced and somewhat randomly triggered acoustic guitar, which I recorded a bass line manually over. The bass was then cut up and glitched algorithmically, and the percussion noises were also added by the computer. The outro is completely manual.