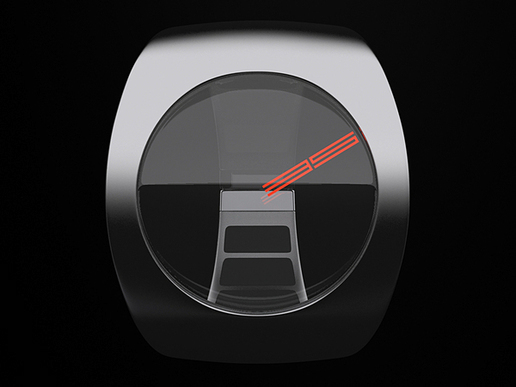 ON AIR Wrist Watch. Image above shows: 2:35
ON AIR Wrist Watch shows time in an extraordinary minimal way. While LED display shows minutes in number, its position shows us the current hour. Display is also function as a light and set button. If you push once LED lights up. To set the time you need just to push in the center of the display for 5 seconds and LED flashes, here you push upper or lower corner of the display to set the hour and the left and right corner to set minutes.
Image above left to right shows 9:20, 12:00, 2:35.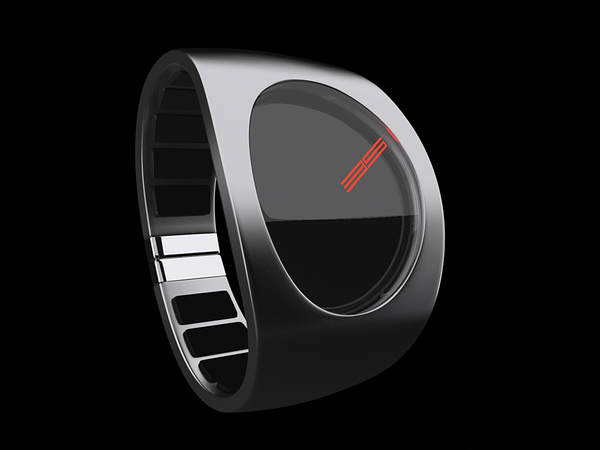 I know some of your may be a little disappointed that it doesn't look like as original at all, its because some manufacturing problems of bracelets form and transparent display. But I think its pretty beautiful watch, it works as we designed and has touch screen technology. 
Its made of stainless steel, there are Black and Silver versions in color. 
Have 4 colors of displays:
Tech specs:

Displays time
LCD "always on" display
LED backlight for illumination
Animation feature (can be turned off)
Audio feedback (can be turned off)
Stainless steel case and strap
Clasp: simple fold over clasp with push button
Minimum wrist size: 100mm (approx.)
Maximum wrist size: 210mm (approx.)
Case dimensions: 44mm x 51mm x 12.6mm
Battery CR2025 replaceable watch battery