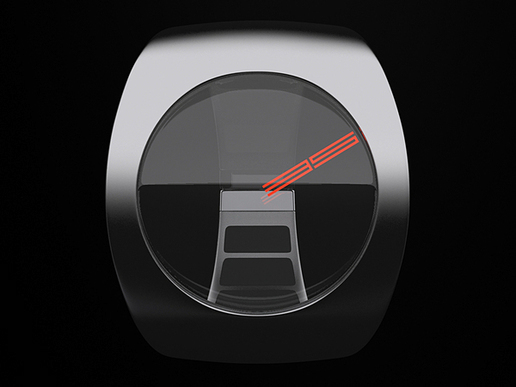 ON AIR Wrist Watch. Image above shows: 2:35
ON AIR Wrist Watch shows time in an extraordinary minimal way. While LED display shows minutes in number, its position shows us the current hour. Display is also function as a light and set button. If you push once LED lights up. To set the time you need just to push in the center of the display for 5 seconds and LED flashes, here you push upper or lower corner of the display to set the hour and the left and right corner to set minutes.
Image above left to right shows 9:20, 12:00, 2:35.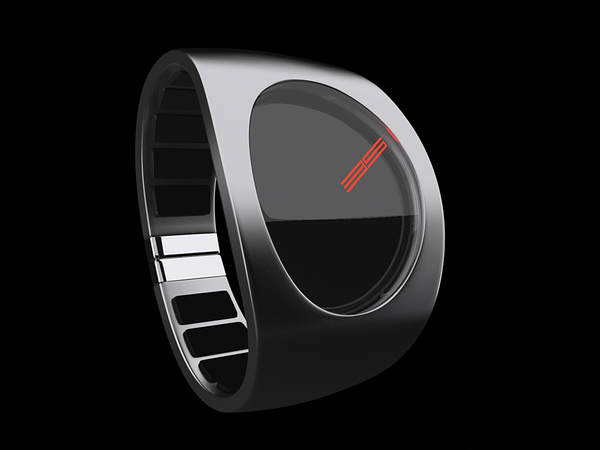 I know some of your may be a little disappointed that it doesn't look like as original at all, its because some manufacturing problems of bracelets form and transparent display. But I think its pretty beautiful watch, it works as we designed and has touch screen technology. 
Its made of stainless steel, there are Black and Silver versions in color. 
Have 4 colors of displays:
Tech specs:

Displays time
LCD "always on" display
LED backlight for illumination
Animation feature (can be turned off)
Audio feedback (can be turned off)
Stainless steel case and strap
Clasp: simple fold over clasp with push button
Minimum wrist size: 100mm (approx.)
Maximum wrist size: 210mm (approx.)
Case dimensions: 44mm x 51mm x 12.6mm
Battery CR2025 replaceable watch battery
The limited edition Kisai On Air Acetate watch is available in four display colors each with LED backlighting. The LCD display is always on so the time can be read at a glance and the LED backlight function means it will light up on demand, a useful function for night time.

On Air Acetate's time display is minimal and intuitive. The digital numbers on the screen are the hour hand and point to the current hour in the same was as the hand on a clock. The digits on the screen are the current minutes. Reading the time couldn't be easier.

The date can be read in exactly the same way with the hand pointing to the month and the digital numbers showing the date.

Acetate is a special material used in the production of high end sunglasses and other fahion accessories. Manufactured in the same way as stainless steel, each part of this LED watch design, including each link that makes up the strap has been carefully hand cut, machined and individually polished before assembly.

A strong material with a deep gloss that can be cleaned easily, Acetate has a silky finish, similar to ceramic or lacquerware and is light and comfortable to wear, making it ideal for wrist watches.

The custom made case is curved so the watch will fit your wrist perfectly.