MNEMINIC



We realized a direct marketing to direct MINI owners
to the MINI Service instead of to a generic car service.
We sent a little MINI branded MEMORY game (MNEMINIC)
with printed on the cards the pieces of the MINI engine or spare parts.
Haedline: "We know every piece of your MINI off by heart".

THE INCENTIVE ISLAND BOX

The Needs
Provide incentives to the BMW and MINI sales force pulling it to promote original spare parts, original accessories and tires.
The Solution
30 cruises to Caribbean raffled by BMW and MINI. These prizes were promoted by a direct mailing with caribbean taste: the box was inspired by typical cargo boxes going adrift
and stopping on desert islands'shore. Within the box the user finds a hammer, a coconut
and a treasure map that communicates the initiative.
The Results
In respect to 2008:
Spare parts selling +20 /
Accessories selling +17 /
Tires selling +28%/
MINI AGAINST BOREDOM.
Pea shooter free postcard in bars and canteens next to schools and universities.

MINI REGENERATION DM



MINI Service is part of the BMW Group,
and it deals with all the services that MINI dealers offer to their clients.
They comprise of several services.
MINI RE-GENERATION is directed to MINI owners
that have had a MINI for at least 4 years.
We realized a direct marketing in which the services were offered as herbal teabags.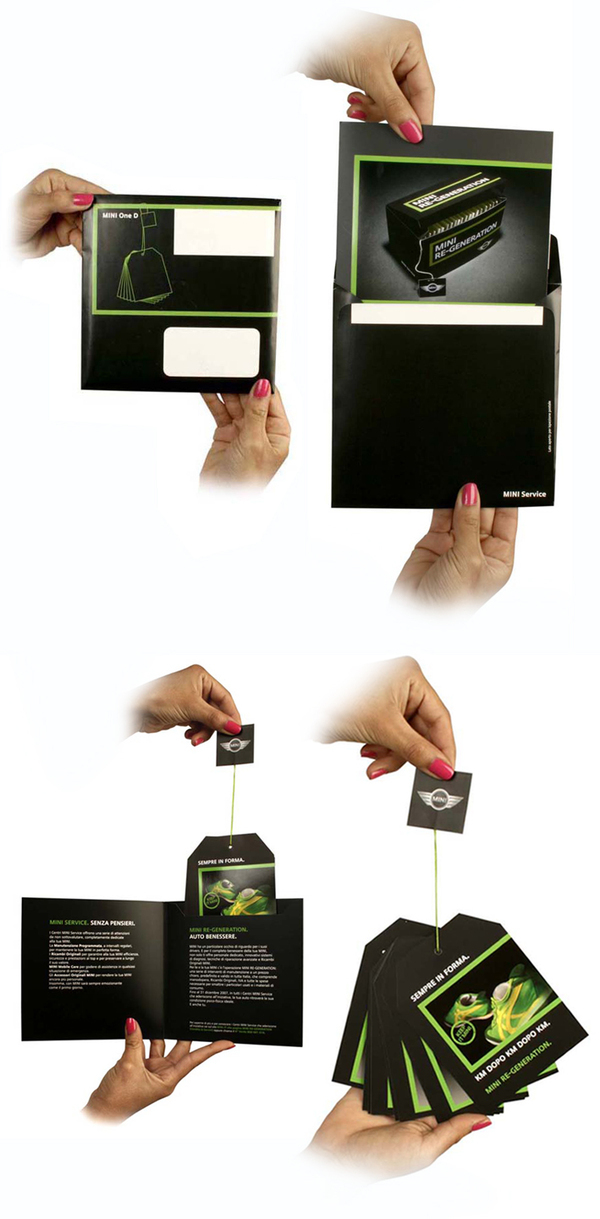 BMW advent calendar direct marketing.