Home Page Rework
PickYourShoes.com
The following images are from a re-envisioning of the PickYourShoes.com home page. The online shoe retailer's executives expressed the desire for a web page design that better embodied their brand identity as an exclusive, high end entity. To give the executives a better understanding of my Interaction Design abilities I created a re-structured sample home page, as the majority of my work lies in Industrial/Product Design and did not pertain to their needs.

*Sample images from the existing website are used for comparative purposes only. The work I created was done voluntarily as a means to showcase my abilities. There was no contract, non-disclosure agreement, or compensation in association with this work.
Original Home Page Header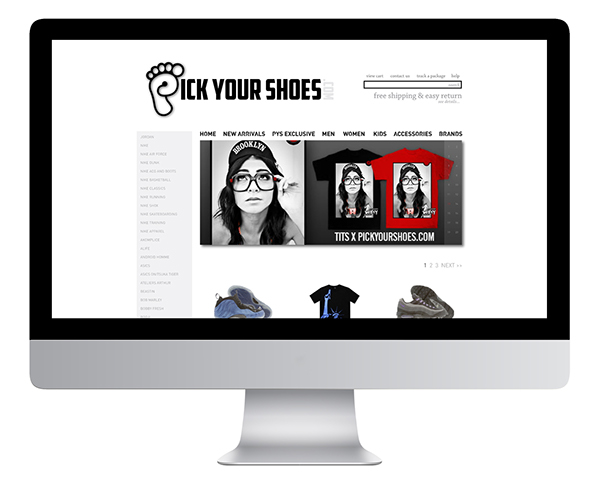 All of the original header information is preserved while making the logo larger and more visible. The navigation and help information is organized into separate entities so that the products become intuitively separated from the services. The advertisements have been located in one central rotating display window, larger than the original.

Original Home Page Footer

All footer information was preserved while finishing the page experience with larger branding and interaction opportunities. In addition, the displayed products have larger sample images along with a more readable typeface in intuitive coloring and increased font size. These changes were made to improve recognition of the products, therefore promoting a more enjoyable shopping experience.