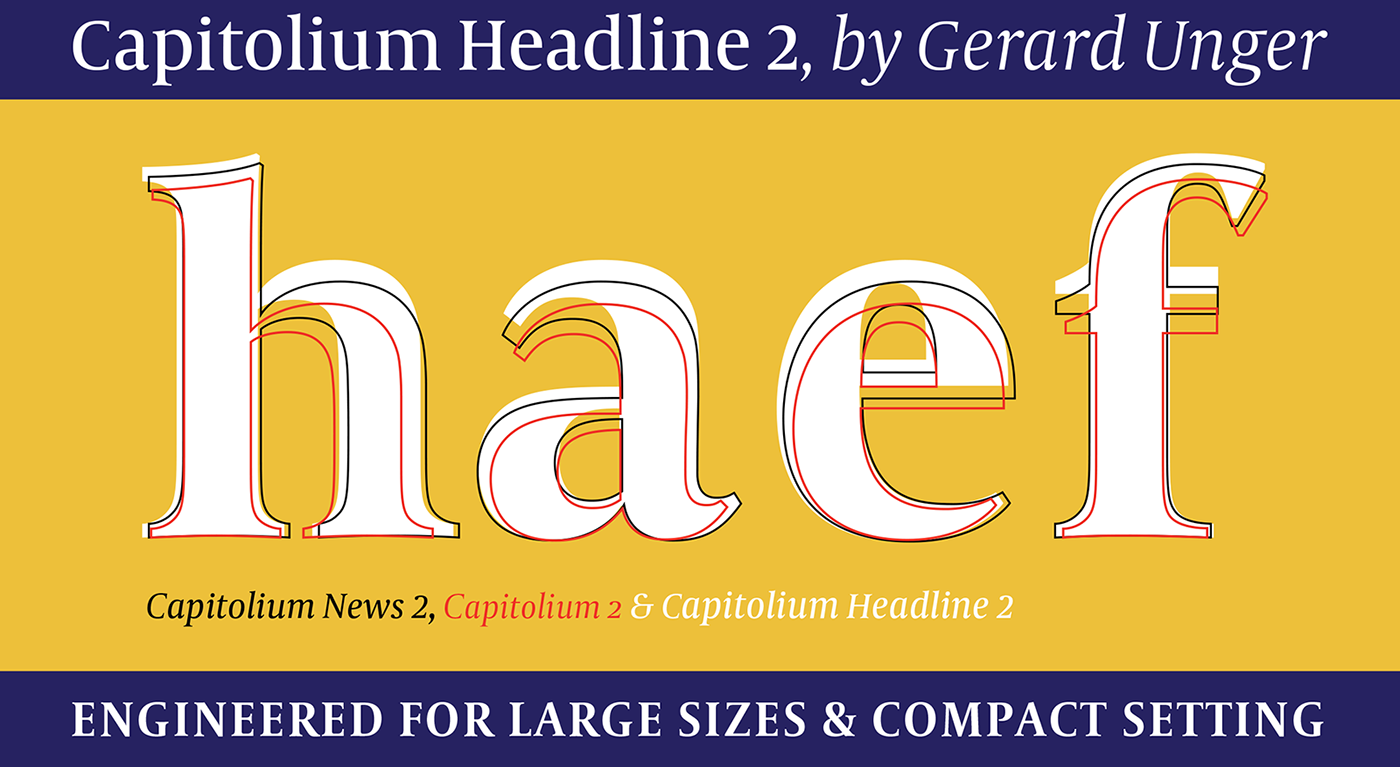 Capitolium
was designed in 1998 at the request of the Agenzia romana per la preparatione del Giubileo for the Jubilee of the Roman Catholic Church in 2000. This type design was the central part of the project for a wayfinding and information system to guide pilgrims and tourists through Rome. Capitolium also continues Rome's almost uninterrupted two-thousand-year-old tradition of public lettering . It is a modern typeface for the twenty-first century and strongly related to the traditions of Rome.
Soon after the completion of this project Unger began contemplating the possibility of bringing the atmosphere of this design to newspapers. Though
Capitolium 2
works well in most modern production processes and also on screens, it is too fragile for newsprint. For newspapers sturdier shapes were required as well as more characters to a line of text, and
Capitolium News 2
has a bigger x-height than
Capitolium 2
.
Capitolium News 2
is a thoroughly modern newsface, with classic letterforms linked to a strong tradition. As is possible with most of Unger's type designs,
Capitolium News 2
can be condensed and expanded without any harm to the letterforms.
The update to this beautiful font family,
Capitolium 2
and
Capitolium News 2
, includes the addition of over 350 glyphs featuring full Latin A language support, small caps, new ligatures, 4 sets of numerals, arbitrary fractions and superiors/inferiors. Furthermore, kerning was added and fine tuned for better performance.
Capitolium Headline 2
is the titling companion to this editorial type family, beautifully engineered for large sizes and compact setting. The large x-height combined with narrow letter shapes and
Capitolium's
naturally high stroke contrast allow for elegant yet striking multi-line headlines.
Capitolium Headline 2
includes three weights plus matching italics.
Capitolium 2
is finalist at ED-Awards 2012 and it is one of the winners of Letter.2, the 2nd type design competition of the Association Typographique Internationale.
The
Capitolium 2
family is available at our webfont service partner TYPEKIT or contact us for self-hosting @font-face.
Capitolium 2 Light
Capitolium 2 Regular
Capitolium 2 Italic
Capitolium 2 Bold
Capitolium 2 Bold Italic

 Capitolium News 2 Regular
Capitolium News 2 Italic
Capitolium News 2 Semibold
Capitolium News 2 Semibold Italic
Capitolium News 2 Bold
Capitolium News 2 Bold Italic

Capitolium Headline 2 Light
Capitolium Headline 2 Light Italic
Capitolium Headline 2 Regular
Capitolium Headline 2 Italic
Capitolium Headline 2 Semibold
Capitolium Headline 2 Semibold Italic
Capitolium Headline 2 Bold
Capitolium Headline 2 Bold Italic