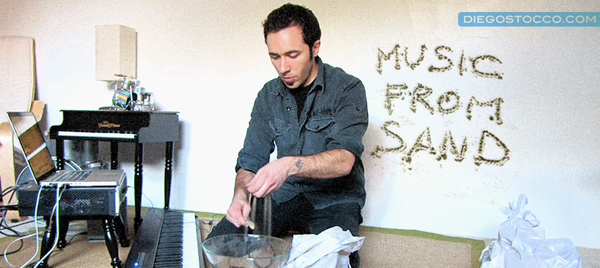 I had some sandbags in the backyard that I used in November during a rainy day. I was moving them to a different spot when I heard the noise of the sand. I thought that maybe I could try a new sound design technique so I bought some piezo film transducers and started to experiment with them.

The entire track is created only out of tuned sand tones. No additional sounds or waveforms.
I emphasized the inner notes of the sand grains and mapped them on a sampler as a series of instruments. The grooves are all played live with various techniques, including taping two piezo films to my fingers.

I'd like to dedicate this work to Mike Oldfield. When I was a child I listened to his music and it opened my mind. That experience triggered my life passion to create the means to access sounds we've never heard before.

Update 06/08/09.
Music From Sand is now available as a high-quality mp3 download. This version is a full track, longer than the version in the video.