Preserve the Polar Regions and Glaciers!
In 2009, Finland, Chile and about 40 other countries will issue stampson climate change. The common theme is Preserve the Polar Regions andGlaciers. The international stamp campaign is being coordinated byItellas Philatelic Centre in Finland.
Each participant country will issue its stamps on its own schedule inthe period January-March 2009. Each country will also decideindependently on the illustration theme for its issue. A shared featurefor the issues is the crystal insignia.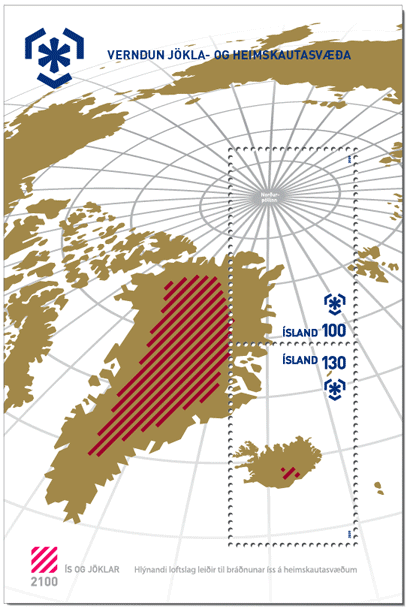 The Design
My design focuses on the North-Pole, so close to my homeland - Iceland. To illustrate the effect that warmer climate has on the the Poles I use  thermocromatic ink wich dissapears when the stampsheet is heated. In COLD state is shows ice and glaciers in the year 2009, but when HOT it illustrates how little ice is estimated to be left in the year 2100.
Size of the mini-sheet is 80x120 mm
Printed in 3 pantone colors offset + a thermocromatic ink in photogravure.
Printed by Österreichische Staatsdruckerei GmbH.
Issue by
Iceland Post
29 january 2009.
More designs can be seen here at the
Finnish Post