The manuscripts of author Franz Kafka had such a profound impact on Finnish graphic and type designer Julia Sysmäläinenthat she decided to convert his handwriting with its unusually strongcalligraphic characteristics into a digital script. The philologisttook on the challenge to transform in Kafka's rather eccentric letterforms into an balanced typographic flow. This meant not only creatinghundreds of ligatures, each of them consisting of two, three or evenfour single characters, but also integrating numerous alternatecharacters to avoid successions of repeating shapes, in order to lend FF Mister Ka more authentic script feel. Furthermore handy OpenType functions wereadded, for example for stylistic alternatives including hatched text aswell as underlining and crossing out.Eventually three completely different single fonts were developed. Besides the normal cut there's also Crossout, which allows for setting extensively crossed out text and Onstage,which clearly looks more extravagant and wriggly. FF Mister K is theonly completely new design in the newest FontFont release 47 and is nowonline for sampling and download. It's available in either a Standard OpenType or a Pro versionwith additional language support. FontShop.com's advanced character setviewer reveals all the font's 1,500 glyphs, including the hundreds of ligatures, stylistic alternates, underlines and scribbles.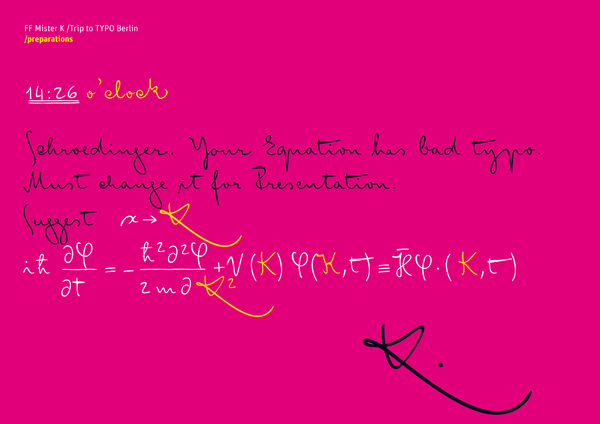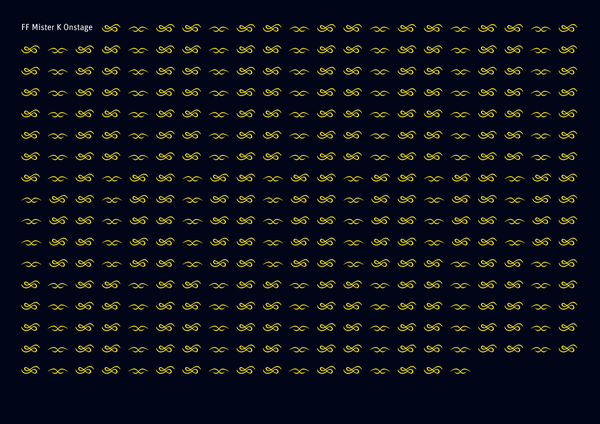 NEW: FF Mister K Dingbats

While creating the letterforms for FF Mister K Julia Sysmäläinen was moved to sketch pictograms in the same personal, hand penned style. Her imagination (and digital ink) ran wild, resulting in nearly 600 images including animals, plants, stars, famous buildings, faces, food, flags, arrows, and various symbols for sports, hobbies, professions, traffic, and weather.

All the pictograms are available in a single font accessible via keycode or glyph palette.