This original project created for an international competition of ideas for street furniture, installations and interventions, which could be produced using artisanal methods, for outdoor spaces in hill and mountain areas.   The draft used only natural materials and artisanal methods. Such as wood, stone, from hemp fabric and metal (as fastening elements).     This original project  consists of conceptual ideas : 

 Eclipse,
 Woodmoon,  X…,  Made by wind,  40g and cigars.   
  The conceptual look at each idea separately.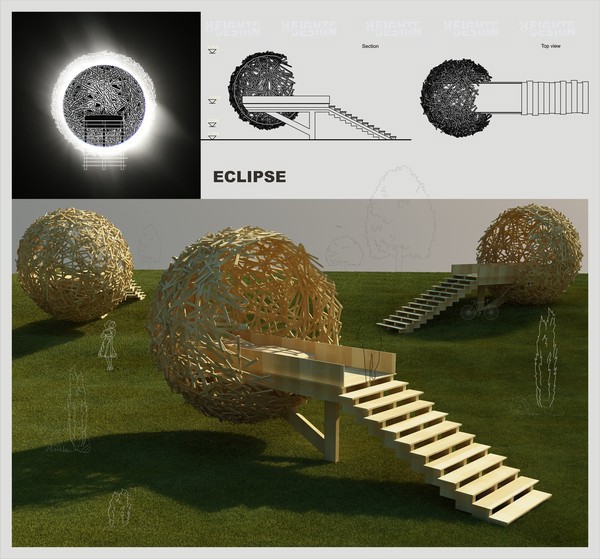 ECLIPSE
Wooden structure Eclipse is a shed, specially created for the beautiful contemplation of Piedmont. Construction of various intersecting points resembles a bird's nest, lair, the moon and returns lunar eclipse. Moon always stirred people's minds, and always eclipse was some mysterious sign of the sky. While in house, you can feel seize a celestial lights. All elements of wood sheds. Pillows of the fabric of cannabis.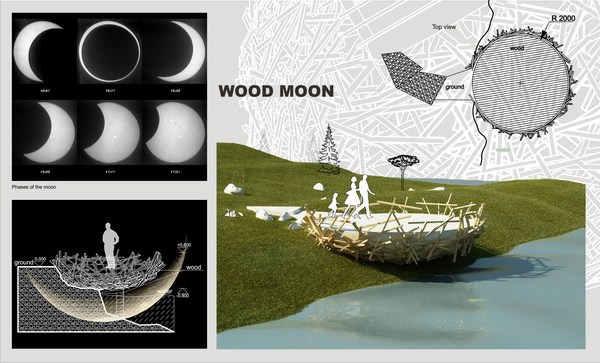 WOODMOON
Woodmoon continues Eclipse idea. But in this way wooden structure is a young moon. The image he complements console over the water. Open shops designed for contemplation river and mountain species.Elements of console are made of wood and stone.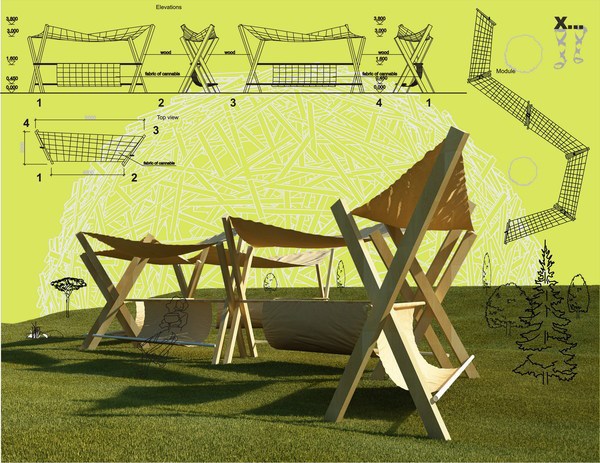 X…  
The indoor bench X… used wood and fabric of cannabis. This modular element, which can create entire coil. The benches come in handy for panoramic modes and can be  placed among the trees.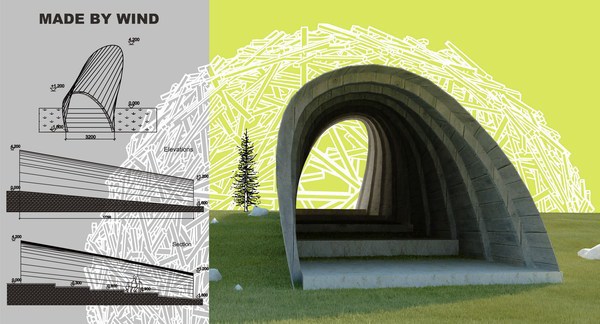 MADE BY WIND
The design of the downed boards, seems to be made by wind itself. Tunnel leading to the beauty  forest… You can hide from the rain and enjoy a concentrated two species locations.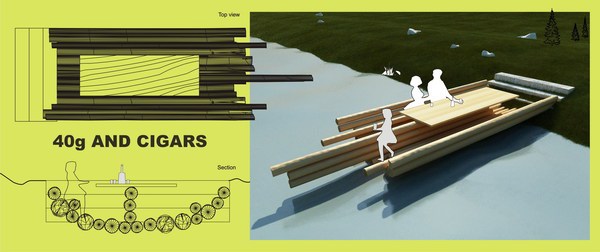 40g AND CIGARS

 Construction of log hanging over the water, reminding raft. But this is not a raft downstream to the river. It was created specifically for the rest, sports, board games,etc.                                                                                                       All of the ideas originated with the opportunity to make them effective. In each constructions is  used metal  to harden to harden it.