SXSW 2011 Internship:

1/11 - 4/11
Near the culmination of my education at the Art Institute I required an internship. I lucked out and was welcomed to the team for SXSW 2011 as an intern in the publication department of the Interactive festival. The following are examples of the main projects I worked on during my time there. As you will see, I was heavily into a phase of practicing iconography and vector illustration.
Interactive Festival Attendee Infographic
One of my favorite projects for the internship was designing a pullout infographic poster that was inserted into the large guide book given to all Interactive Festival attendees. The information in the graphic was gathered from a survey sent out to registered attendees and was concerned about both their demographics and gathering popular opinions on relevant issues in the tech world. I was inspired by the phrase 'find out what makes them tick' and went with a science fiction idea of having the sample attendant be a cyborg where the graphic would be visually laying out both the inner workings of this blend of man and metal while working in the actual info from the survey.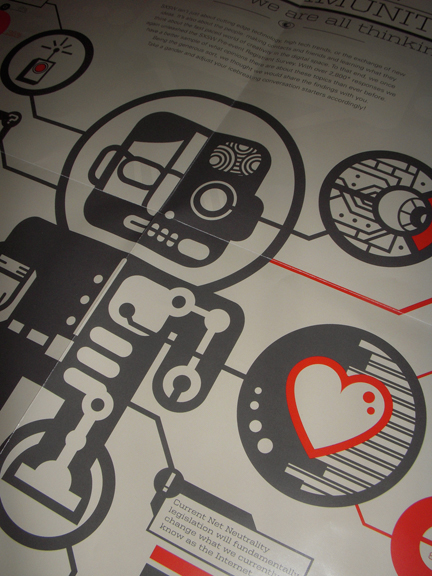 Panels Crew Volunteer Bandanna
Another fun project I was given was to design a bandanna to be worn by all the volunteers on the Panels Crew. This was the largest group of volunteers at the festival and in years past they came up with the idea of giving them a bandanna that would help the crew chiefs recognize who they could call on for help. Like the previous project, I was inspired by science fiction and wanted the bandanna to look like it belonged on a cartoony mad scientist as he tinkered on a giant robot.

As an added detail I thought it'd be a nice touch if the middle part would read 'Panels' when worn on the head while 'Crew' would read when the bandanna was worn around the neck or over the face. While walking around the convention center during the festival I also enjoyed seeing how creative the volunteers would get with how they wore these and what parts of the design they displayed.

Thanks to 'Industry Print Shop' for doing the screen printing for this project.