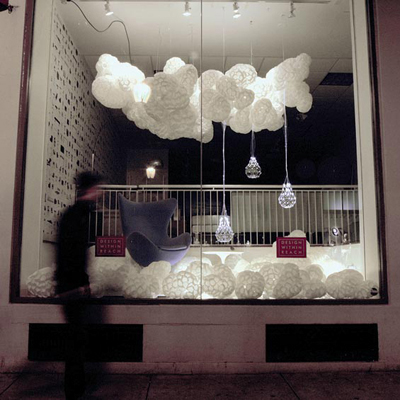 "Some Kind Of Wonderful"
Internship with Little Wonder

"Some Kind of Wonder" was installed at the F.U.E.L Collection, in Philadelphia, following a preview at Design Within Reach, Philadelphia during the Design Philadelphia 2007. It was subsequently installed at the Euroluce Sales Centre in Melbourne, Austraila as part of the 2007 Melbourne Design Festival. "'Some Kind of Wonderful' comprises a trio of optical fiber nets, each holding a glass fish bowl and hung from a cloud, like an oversized raindrop. Light is emitted from the knots of the optical net. Fish swim in luminous raindrops falling from the clouds."

My largest contribution to the project was the creation of the cloud environment, which was formed by joining 10,000 paper cup cake holders.