Master Com

p

re

s

s

o

r

Extreme

LAB2
The new Master Compressor Extreme LAB 2 Tribute to Geophysic is a mechanical Chronograph with GMT-function, especially developed for use in the most extreme conditions. The chronograph has a digital number display and a radial power reserve for easy readability. As a member of the Master Compressor line, which stands for die-hard-sports watches with innovative functions and thoroughly tested mechanisms, the Master Compressor Extreme LAB 2 Tribute to Geophysic is outfitted with state of the art technology, the latest in materials science and watchmaking development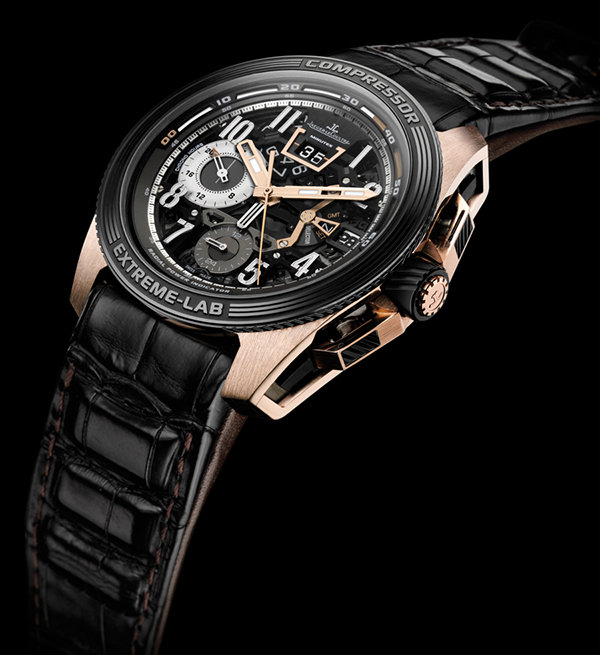 Design for easy and reliable usage
The Master Compressor Extreme LAB2 Tribute to Geophysic

is a chronograph combining sporting spirit and technical prowess into a resolutely extreme design, with a maximum of comfort, readability and ergonomics. High tech
materials and darin

g shapes co

mbined with the sandwich structure of the case, transforming the watch

into a state-of-t

he-art timing instrument.
Product Designer Emanuele C.

+

  Design engineer Francis C.



The Movement
The newly developed Calibre 780 refle

cts the mastery of

Jaeger LeCoultre

's watchmaking in full bloom. Even with the complexity of 569 parts, it remains a precise and reliable movement with chronograph and GMT functions in which the latest of the manufacture's developments have been incorporated. With its range of application in mind, sports and exploration, the watch is built to resist extreme conditions – from the boiling heat of hot deserts to icy storms on high mountains – thereby delivering the highest possible levels of precision and reliability.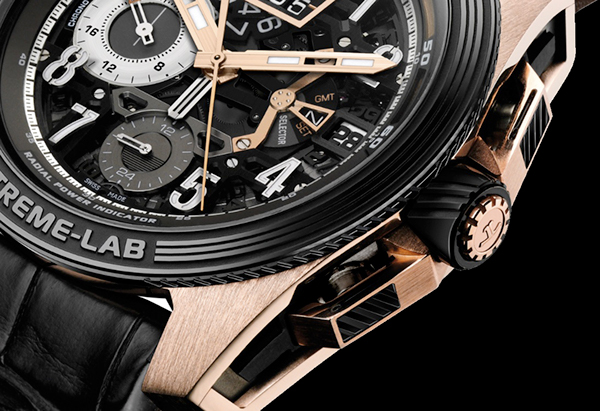 Function Selector
The function selector – activated by a pusher in the crown and indicated on the dial – essentially functions like a manual gear box in a car and presents three functions: watch winding in the first position, adjustment of the GMT-function and the date after pushing once, and time setting after a second push. Giving a third push makes the system return to its first position in which the crown is decoupled from the gear train of the watch and only allows winding the watch.
This system makes pulling the crown superfluous and therefore protects the watch from possible intrusions of dust and dirt for the crown stays in the same position at all times. Because of this construction, it was technically impossible – and unnecessary – to secure the crown with a Compressor-screw. Instead it is protected by the two chronograph pushers at the sides and sealed with a double gasket system.

Technical Details
The black zirconium ceramic bezel together with the sapphire glass forms an almost indestructible upper section. For the casing the designers came up with a bipartite carrier construction for the

Master Compressor Extreme LAB 2 Tribute to Geophysic i

n which an outer carrier holds the bracelet and simultaneously forms the frame for the inner watchcase that houses the movement itself. This system delivers a maximum of sturdiness combined with a minimum of weight; which is especially true since the watchmakers chose an exceptional titanium alloy called TiVan15 as the case material. In this alloy made of titanium and Vanadium extraordinary physical resistance to tension, torsion and scratches is improved by 15% compared to traditional titanium alloy. The case-construction itself exudes a sporty no-nonsense look befitting its use under all kinds of tough environments.