Product : STC SPORTS
Title : IT'S OUR GAME!
Advertiser/Client:STC
Product/Service:STC SPORTS
Since STC is viewed as a leading Saudi company with a strong local cultural identity, our main challenge was to communicate STC's international football platform without compromising their local cultural identity.
Describe the brief from the client :
Saudi passion for football is not limited to support of local clubs, but even extends to international leagues – with European club games being highly anticipated. Over the years, STC has leveraged this passion to become the leader in football-related content, linked to its sponsorship of two world-leading clubs: Real Madrid and Manchester United. Our brief was to communicate STC's commitment to football in a way that was relevant to the youth, while encouraging them to visit the website www.stc-sports.com and sign up to the STC football news and information services.
This campaign won 2 bronze Awards at Dubaï Lynx International category Design/Poster and Design/typography

We used a very locally relevant art-form, calligraphy, as a tool to bridge this gap. Football and calligraphy have a common denominator: both are clear expressions of talent and passion. By combining elements of football and calligraphy, we were able to create layouts highlighting a number of footballing attributes, but which also had a powerful emotional appeal. The sporting attributes [strength, speed, precision, skill, performance, experience] were expressed in calligraphic representations of those words in Arabic, arranged around Real Madrid and Manchester United players. The smooth yet strongly defined curvature of letters complemented each footballer's posture and moves. This treatment reflected the campaign message of 'It's our game'.
 
Indication of how successful the outcome was in the market :

The campaign was a resounding success, with die-hard Saudi football fans even calling and visiting STC stores to try and get poster versions of the visuals to display in their homes, at universities and in sports clubs.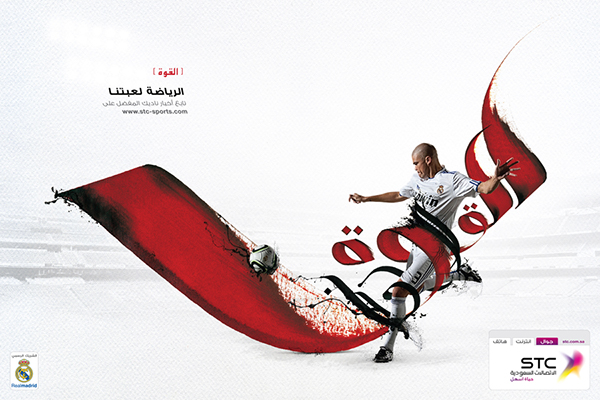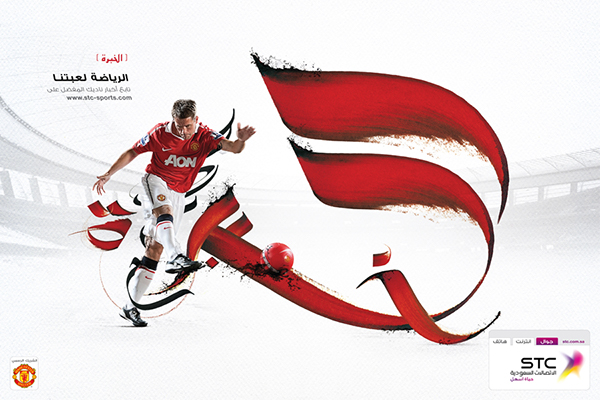 Ramsey Naja : JWT MENA Chief Creative Officer
Chafic Haddad : JWT KSA Executive Creative Director
Nizar Swailem : JWT RiyadhExecutive Creative Director
Ali Baasiri : JWT RiyadhCreative Director
Rayyan Aoun : JWT RiyadhAssociate Creative Director
Yazeed Al Harthi : JWT RiyadhCopywriter
Steve KozmanIntaj : BeirutPhotographer
Julien Breton : FreelancerCalligrapher
Fayez Jabri : JWT RiyadhDirector In Charge
Jad Aboujawdeh : JWT RiyadhProducer
Alaa Abu Hammeen : JWT RiyadhAccount Manager
Dana Al Kutoubi : JWT RiyadhStrategic planner