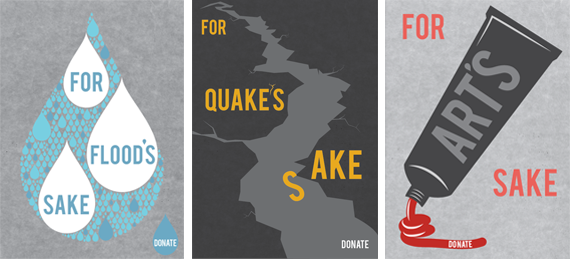 Just Another Agency
Presents their For Flood / Quake / Art Sake DONATE Auction!
With so many terrible natural disasters happening world wide, it's hard to pick just one to support!
So it is with overwhelming empathy that Just Another Agency has brought together a generous group of artists from a diverse range of mediums and styles to donate some artwork in hopes to raise money for the Red Cross.
All proceeds will be donated directly to the Red Cross, who have their "hand on the pulse" and can distribute the funds where they are needed most.
Toby & Melika have also donated pieces from their personal collection for the cause, acknowledging those who have lost everything.
So please, dig deep, show some love, support those in need… and get yourself some incredible art in the process.
All art is currently starting at .99c on ebay. Yes I did say .99c! So head to ebay.com.au and type Just Another Agency in the search bar... You only have 4 days folks so be quick!
For further information or to request detail shots simple email –
contact@justanotheragency.com.au
All artworks are also currently on display downstairs at 1000£Bend in Melbourne until the 26th April.