Chocolate Publishing
Packaging Concept for Hot Chocolate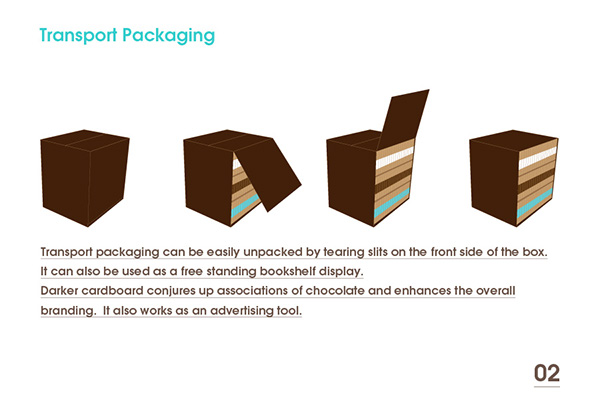 1. Concept
Essentially, the packaging is designed to resemble a small book. The consumer is invited to experience the product, as they would a book. This poetic concept adds a unique quality to the branding.
2. Book Shelf Transport
packaging can be easily unpacked by tearing slits on the front side of the box. It can also be used as a free standing bookshelf display. Darker cardboard conjures up associations of chocolate and enhances the overall branding. It also works as an advertising tool.
3. Chocolate Publishing 
Visually the packaging is kept simple and natural. As the packaging reflects the design of a book, it follows that the company name (or product line) is "Chocolate Publishing." The three chocolate flavours can be easily recognized from the colour-coded 'spines.'
4. Honeycomb Structure
Using a honeycomb structure means that interior packaging has reinforcement without use of extra, wasteful materials for cushioning. In addition, the honeycomb holds each individual chocolate and can be easily pushed through into hot milk when making hot chocolate (see above storyboard).