regroup (The Ex-Googler Universe)
Commissioned for Esquire for October 75th Anniversary Issue
2008
8 1/2' by 21' by 13'
Fleece, Rope, Paint, PVC Caps, Hose Barbs, Metal Hardware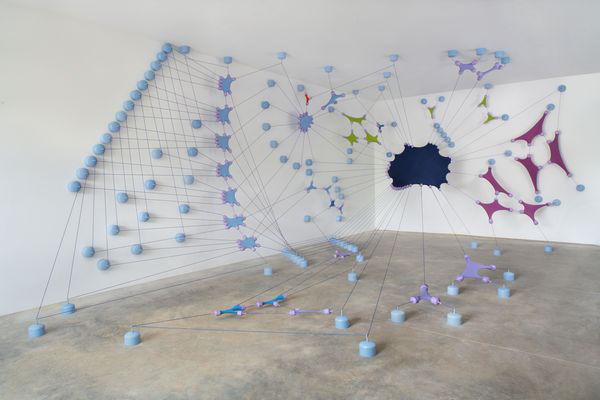 Recently, lots of the employees who have been at Google since the earlydays have seen the stock options vest, allowing them to cash out andmove on. The accompanying story will be about how Google's influence inthe 21st century will be felt through these people who have left. Thedata points are the companies  themselves -- who started them, whatthey do, etc. My work, titled Regroup (The Ex-Googler Universe)utilizes the information from these new companies to create a map,depicting the ways in which the people and organizations are connected.Regroup (The Ex-Googler Universe) is composed of pods, eachrepresenting a single person, which are connected by ropes, displayinga relationship with another person post-Google. The color of the pod isdetermined by the field the company works in, while the size of the podcorresponds to the number of employees at that company. The pods aremade of fleece and end caps (PVC caps, hose barbs, paint, metalhardware). The total dimensions of the installation are 8 1/2 feet tallby 21 feet wide by 13 feet deep.