Apartamento Magazine #2
www.apartamentomagazine.com
Apartamento is a new international editorial project dedicated to the world of interiors, born to tell the story of personal experiences and lifes through the spaces where we live and work. Everyday stories, seen without the usual masks of look-a-like interiors perfect to the millimeter, because in real life variables are infinite and unpredictable since every environment has got its own dynamics and peculiarities that make it special.

Apartamento aspires to be a source of inspiration, a new stimulating force to show how common people live, decorate their homes and react to the same everyday life events that at some point might happen to all of us.

Apartamento has been created by Nacho Alegre, photographer, Omar Sosa and Albert Folch from Albert Folch Studio in Barcelona, and Marco Velardi, an independent writer and curator based in Milan.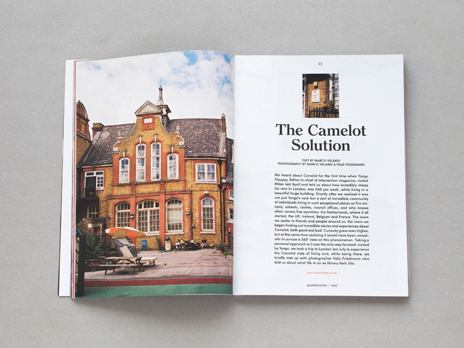 Contributors:
Markus Miessen, Enrique Giner de los Rios, Kiko Buxo, Christopher Bollen, Mathias Sterner, Juan Moralejo, Karley Sciortino, Klas Ernflo, Paula Yacomuzzi, Erol Alkan, Yorgo Tloupas, Felix Friedmann, Alex Gartenfeld, Wai Lin Tse, Max Lamb, Terence Koh, Jem Goulding, Katherine Clary, Mylinh Trieu Nguyen, Arquitectura-G, FAR, Giorgiana Ravizza, Carlotta Manaigo, Joan Morey, Ekhi Lopetegui, RJ Shaughnessy, Ye Rin Mok, Julian Gatto