HEARTBEATS PROJECT.
Listen to your heart beat Aids in Africa.
The Global Fund needed a new way to involve young people in the fight against AIDS, 
raising both awareness and money for the cause. 
We created a unique charity experience that involve people in the most personal way by donating their own heartbeats and turn it into music in a huge event – welcome to the HEARTBEATS PROJECT.
THE APP
Specially developed for the project: it measures your heartbeats, send it to the live act and visual artists who mix it and creates music and visual art.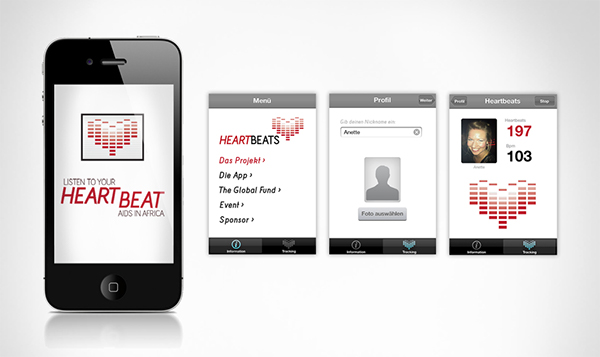 SOCIAL MEDIA AND DONATION
After contributing to the music with their heartbeats. People could share on Facebook and through a link transform their heartbeats into new life by donating money for the cause.
EVENT AND RESULTS
On the first party over 2.500 people enjoyed a unique experience by donating more than 45.000 heartbeats. With the entry fee and the donations we raised enough money to give 261 people a new life by providing them medical treatment.