WIDER YACHTS
Logo, typeface and corporate identity.
The main innovative feature of this yacht is the possibility of extending the usable surface.

This concept is embodied in the design of the logo and the corporate identity.
http://www.wider-yachts.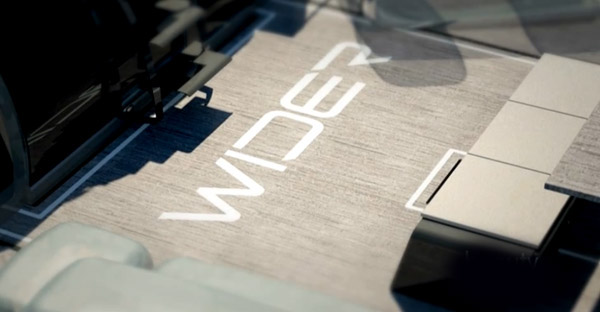 The mobile extensions are opened out by means of an automatic, electronically controlled mechanism. It only takes 12 seconds for them to be lowered into the water, making opening and/or closing operations both highly practical and easy to use. When opened out, the central cockpit of the WIDER 42' features a flat, usable surface area of 18m² – the equivalent of the cockpit of a 120' megayacht – and a floatation width of 6.6m. Besides creating additional space aboard, this feature also makes the yacht highly stable, as the mobile extensions of the hull are lowered into the water. Unthinkable values for a 42 footer.