21st July 2019  http://memoriesofabutterfly.com/
'Memories of a Butterfly' (MOAB) - design in beads, 2019, Specializes in creating High-end Customized Bead Curtains & Hanging Sculptures. Our Bespoke beaded curtain designs that can be used as screen and room dividers are art pieces that are practical. All the designs are hand made and every piece is customized so as to suit the clients' design and functional needs.
Now launched 2019 an Exclusive Ready Made Beaded Curtain Collection.
http://memoriesofabutterfly.com/ready-made/
What we love about bead curtains is that they not only allow for a play with color, light and texture, but also enable us to create natural connectors between spaces. They have the ability to create privacy without disconnecting an area from the rest of the house, office, bar, hotel, SPA or restaurant. Door Beaded Curtain I Window Beaded Curtain I Home Decor Beaded Curtain I Room Divider I Screen Divider I Bead Curtain 
We use a variety of high-end, high-quality Materials in our curtains – Pure Glass, Crystal, Australian Shell, Bone, Treated PVC, Stained or Sprayed Acrylic, Acrylic Crystal and Wood, to name a few. Hanging Sculptures for restaurants, hotels, spas, homes. Beaded Curtains for doors and windows.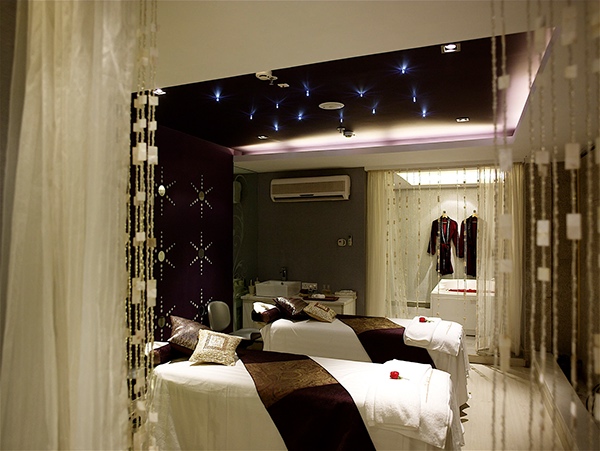 PROJECT I
Commercial Project : Influence SPA
(Manish Malhotra's collaboration from what i understand)
Design: CUSTOMIZED "White Square Shell Raindrop"
Price: on request
http://memoriesofabutterfly.com/?p=69
The bead curtains for Influence SPA Chennai were designed to create a subtle
fil conducteur
between open spaces of the various sections in the spa rooms. The role of the curtains was to delineate but not separate, so as to keep the feel of the space open and light. These mobile curtains were placed between beds in Twin Rooms, between bathing and massage spaces, and in some locations creating changing area corners. Keeping with interiors created by Transform Design Interiors designers, the bead curtains were customized in shades of mother of pearl and white. Materials used were high-end, Square cut White Shell and Transparent small oval Glass Beads.
The end effect was ceiling length light curtains dropping down like bold raindrops, creating ease of movement yet adding excitement and texture to the stark white interiors of the rooms. The curtains added subtle play in whites and pearls to an otherwise flat clean palate of the area allowing for it to be an attention piece without being distracting for the customers, providing a pampered soothing environment for a relaxed afternoon at the SPA.
Other materials proposed for this project were Mother of Pearl Acrylic beads available in multiple sizes and strung creating a light rain drop effect. Also considered were posh Crystal Beads in Glass or Acrylic & Transparent Leaf Cut beads.
Every space needs to be tackled with its own distinct design requirements which is why we believe in customizing every Beaded Curtain piece in our work with architects, interior designers, hotels, restaurateurs, builders and individual home owners.
http://memoriesofabutterfly.com/category/bead-curtain/
Door Beaded Curtain. Window Beaded Curtain. Home Decor Beaded Curtain. Room Divider. Screen Divider. Bead Curtain.
Connect with us to buy a Beaded Curtain and to have a bespoke art piece in your space! 2019
Buy Beaded Curtain. Order Beaded Curtain.
http://memoriesofabutterfly.com/shop-buy-order-beaded-curtain/
21st July 2019  http://memoriesofabutterfly.com/
21st July 2019  http://memoriesofabutterfly.com/