Contents
The Wyman Avenue Residences
Badger Pass Ski Lodge Rehabilitation
Page & Turnbull Small Projects
Florham Park Renaissance ClubSport
The Westin Alexandria and Jamieson Condominiums
Master's Thesis:  An Urban Brewpub and Beergarden
Rome Study Abroad Program
Artwork
Located at the southern edge of the Presidio of San Francisco, the seven
Wyman Avenue
Residences
were constructed in the1930s to house military officers and their families.  The homes were boarded up and abandoned in the early 1980s, and by the time the newly-established Presidio Trust decided to rehabilitate and re-occupy the houses, they had suffered nearly three decades of systemic decay.  Acting as the Project Architect from the end of the contract document phase through construction, I oversaw the careful restoration and retrofitting of these historic buildings.  Completed in 2010, the houses are now available to the high-end rental market and are concluding the certification process for LEED-ND. The incredible transformation of these buildings makes for a compelling story.  The before and after photographs that follow are an illustration of potential realized.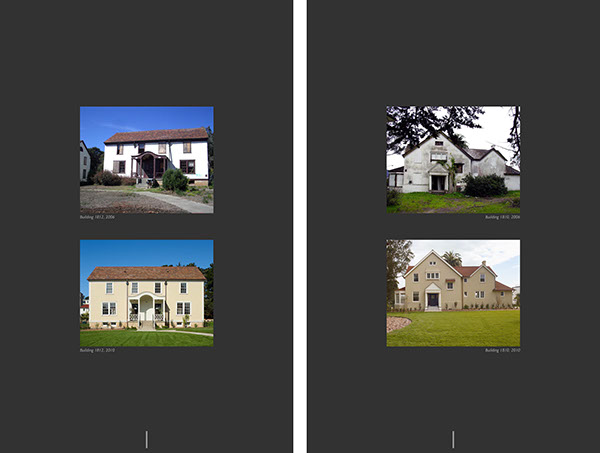 As one of the first ski lodges in the country, the
Lodge at Badger Pass
is a popular building whose history and memory is precious to a lot of people - generations have learned how to ski there. The harsh Alpine environment, however, has accelerated the building's decay.  The purpose of this project is twofold: first, the building must be stabilized and its basic problems remediated.  Second, the building must be sensitively modernized so that it's better able to serve future generations.  Working with the National Park Service, our team developed a series of alternatives for the continuing use of the building - some conservative and others aggressive - and with input from a wide array of stakeholders, narrowed our focus to arrive at a single preferred direction.  Construction documents are underway and the first, remedial phase will begin in the summer of 2012.
The nature of historic preservation work is that projects are often small in scope.  During my time at Page & Turnbull, I have had the opportunity to perform on a variety of drastically different project types, tasks, and non-traditional architectural services.  I have performed building conditions assessments at the Grand Canyon, written conservation reports for historic structures, created hand renderings for clients, designed a kitchen renovation at Asilomar State Beach, and designed and administrated the construction contract for a deck and ramp adjoining a historic house at the Presidio. Each new undertaking has provided an opportunity to learn, excel, and deliver.
Hotel heavyweight Marriott International has historically been a conservative company.  However, in 2006 the acquisition of a new brand,
Renaissance ClubSport
, signaled the organization's move in a more contemporary direction.  Cooper Carry was hired to assist in rolling out the brand, and I was tasked with creating its first designs.  I managed predesign through contract document efforts for RCS projects in Houston and in Florham Park, New Jersey. The architecture of these buildings emphasizes motion, excitement, and energy, consistent with the RCS'  unique pairing of hotel and fitness center.  The trying economic climate of recent years has forced these projects onto the shelf; however, one hopes they will return as part of the recovery.
A new planned urban development known as The Carlyle, on the western edge of Old Town Alexandria, Virginia, includes a number of prominent buildings.  Cooper Carry's contribution to the development is
The Westin Alexandria and Jamieson Condominiums
, a 16-story mixed-use building consisting of a 315-key hotel, 79 condo units, a feature restaurant, and ground-level retail.  I served as the primary design team contact on the project from the beginning to the end of its construction, a three-year undertaking.  During this time I responded to RFIs, reviewed submittals, performed weekly site visits, coordinated our consultants' efforts, and closed out the project.  The work was instructive in that it required consistency, patience, and creativity in the midst of a process that was often complicated and fraught with conflict.  I developed a deep appreciation for the enormity of effort needed to produce a satisfying end product.
My fascination with the process of design helped establish the main theme of my Master's Thesis,
An Urban Brewpub and Beergarden
.  Using the brewing process as a conceptual springboard, I spent two semesters  investigating the manner in which an architectural idea evolves over time.  The results were nonlinear, and necessarily so - I found myself frequently shifting scales and modes of representation in  order to get at all sides of an idea.  As the process moved forward, new concepts and alternatives were incorporated into the mix, including vertical gardens, passive solar design, and sociology.  The building's design became a synthesis of these ideas, capturing them in a sharp, wedge-shaped urban footprint.  My final presentation put the entire evolution of the project on display, rather than only the clean, final result.
As a college senior, I had the wonderful opportunity tostudy in
Rome
for a semester.  I found the immersion in a different culture invigorating and elucidating.  While a few months abroad was a completely insufficient amount of time to soak it all in, I used what time I had to observe, record, and reflect.  I used Italy's proximity to Europe as justification for numerous weekend excursions to other fascinating places like Prague, London,and Tunisia.  On-site sketching was the centerpiece of my school's study abroad program; the following pages are excerpts from a few of the sketchbooks I kept while there.
With a wife and a two-year-old daughter, my free time is at a premium.  However, I always find myself drawn to creating
artwork
when there is time to spare.  In my work, I'm interested in organic and human forms, and in old-fashioned, physical, visceral modes of representation.  I also like the idea of narrative and telling a story through pictures.  Some examples of my recent work can be found on the following pages.