IMA International
Graphic design and communications

This job involved managing a variety of different projects including rebranding, a complex website relaunch, information packs and annual brochures.
Web Management
The company website had to perform several vital tasks: to demonstrate the company's brand and reputation, provide detailed information for visitors seeking particular answers, and perhaps most importantly, act as a sales channel. Through in-depth strategic discussions with our design agency, we came up with a fantastic new site that drove targeted traffic through to real conversions. I was heavily involved in the site's architecture, page design, copy writing and photo commissioning. I also set the company up on the social networks LinkedIn, Flickr and Facebook, and optimised the website for search engines (SEO) resulting in Google ranking the company in top three positions overall for selected high-volume keywords.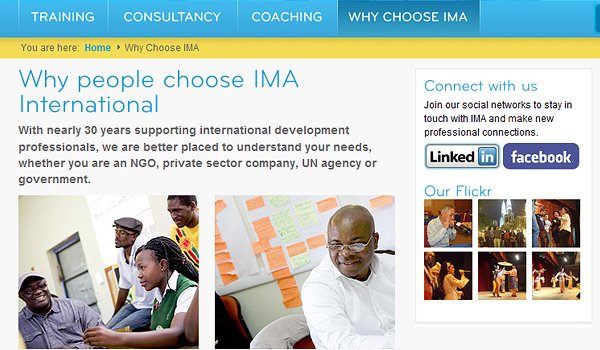 Brand Management
Rebranding an international company is never easy, but this was a very enjoyable process involving a number of different stakeholders both internal and external. We looked at the company's values, unique position in the market, strengths and strategy to formulate the new brand, which was a pleasure to roll out across a wide array of different media.
Once the logo had been designed, my next step was to identify and select corporate type families to use on all our messages. I ensured that all staff engaged with the new brand and were able to implement it correctly by writing clear and comprehensive brand guidelines. Finally I drew up the implementation schedule and managed an interdepartmental team to roll out the brand to all merchandise, templates, training materials and stationery.
Publishing
One great project I enjoyed was producing Welcome Packs for the cities where regular training was held. My job involved managing field researchers and local photographers, conducting desk research, designing the templates, copy writing, obtaining picture permissions, layout and graphic design, illustration, map drawing and print management.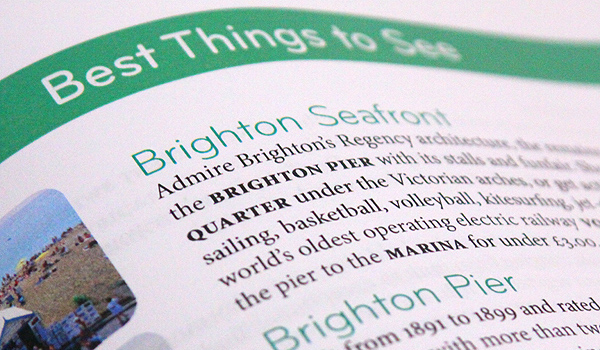 As well as the Welcome Packs, I managed the regular newsletter. This included editing and writing technical content from desk research, then bundling it all together and publishing it for 3500 subscribers.