Everyday Hero Ecological Social Campain–promoting earth saving behavior in everyday life
Kampania ma na celu zwrócenie uwagi na codzienną troskę o środowisko. Ideą działań kampanii jest zachęcanie społeczeństwa do podjęcia roli ekologicznego bohatera na co dzień. Bohaterem może być każdy. Kampania
sprzeciwia się biernej postawie społecznej wobec zagrożeń ekologicznych, ma zwiększyć aktywność grupy docelowej
za pośrednictwem zaplecza informacyj-nego, a także poprzez interakcję z ambientem. Bohater ekologiczny jest ratunkiem dla planety, ekologicznym aniołem stóżem, zarządza podległą mu ziemią w sposób rozsądny
i odpowiedzialny. Stajemy się bohaterami poprzez zmianę naszej postawy życiowej, załatwiając problemy wielkiej wagi w prosty i spokojny sposób. Kampania podejmuje się promowania właściwej postawy ekologicznej, jako
przejawu moralności współczesnego człowieka.
Praca została zrealizowana pod okiem prof. Wojciecha Regulskiego w Pracowni Liternictwa i Typografii, ASP Kraków
Znak graficzny, logotyp oraz hasło kampanii /

Logo design
Znak graficzny jest łatwy do zapamiętania oraz samodzielnego wykonania. 

W zależności od potrzeby, może przybierać wiele odmian. Forma znaku nasuwa szerg skojarzeń, raz przypomina pelerynę superbohatera, innym razem może sugierować koronę króla, bądź skrzydła anioła stroża.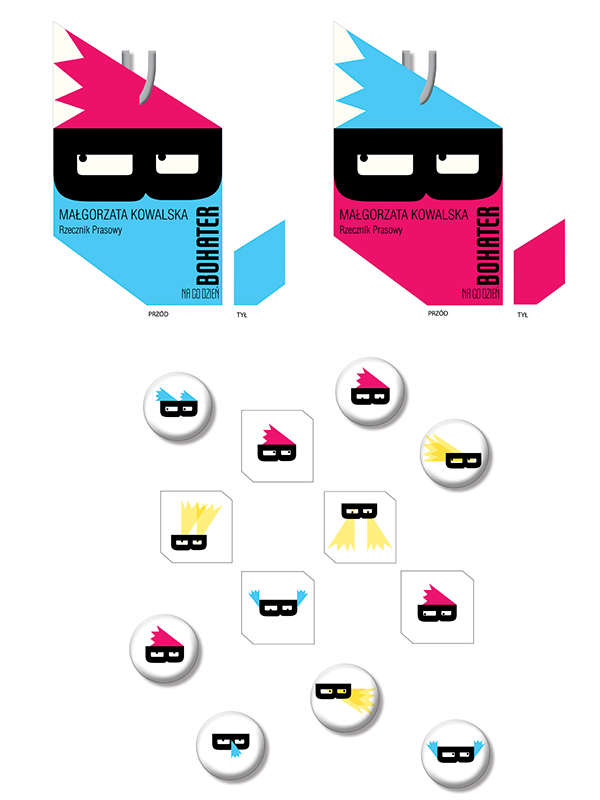 Projekt identyfikatora uczestnika kampanii oraz zestawu przypinek i naklejek /

id card and pin on gadgets and stickers
Naklejka na autobus i tramwaj miejski /

Public transport sticker 

Cel obiektu: Promowanie korzystanie z transportu miejskiego aby zmniejszyć emisję CO2. An everyday hero uses public transport to limit polution.
Nakleki dodatkowe w przestrzeni miejskiej: na ścieżkach rowerowych i koszach na śmieci /

City stickers
Naklejka na klatkę schodową /

Staircase sticker
Cel obiektu: Zachęcanie do oszczędzania energi poprzez korzystanie
 ze schodów stacjonarnych oraz rezygnacja z wind.
Promotes energy-saving use of stairs.
Ulotka /

Information panflet
Cel obiektu: Dokształcanie mieszkańców o oszczędzaniu energi w domu. 
Ulotka jest zarówno maską bohatera na codzień. Obiekt jest przeznaczony dla rodzin z dziećmi.
Projekt teczki oraz wizytówki kampanii /
Folder and buisness card
Wizytówka składana, umożliwia umieszczenie wizytówki w butonierkę.
Projekt papieru firmowego oraz zestawu kopert /

Everyday hero stationary
Projekt koszulki /

T- shirt
Projekt torby kampanii / 
Paper bag against GMO
Projekt strony kampanii www.bohaternacodzien.pl /

web page design