Royal Highness Font
Illustrated & Desiged by Eric Vasquez

Royal Highness

is a new Font Design that I have created by hand. The idea was inspired by a variety of decorative and elaborate display fonts as well as things like armor, crowns, angels, and things of that nature. The project has taken me about three months to complete and is by far the most involved design project that I have ever completed.

I started by sketching each of the letters individually in my sketchbook. From there, I scanned each letter and cleaned them up in Photoshop, darkening the lines and trying to get as much contrast in each of the letters as possible. It was then that I began the time consuming process of tracing every line and detail in Illustrator.

The letter forms are unified not only be the consistent use of shapes that make up each of the letters, but also by the platform that each letter sits upon and the feathers coming down at the bottom of each one.

Once the entire alphabet was complete I decided to give the font a 'Royal Treatment' and put together a design using the new typeface to display the title of the font and to show how these letters can be used. I shaded and airbrushed the title, filling in the letters to give them a golden appearance and then added a red background.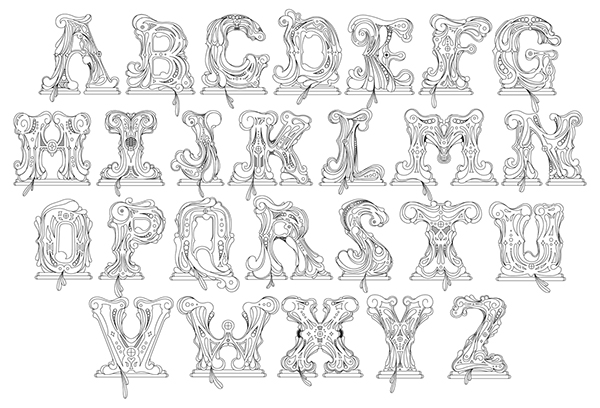 All of the images, letters, and fonts shown are property of it's owner (Eric Vasquez) and may NOT be used without explicit consent. You may contact me directly if you are interested in finding out how to purchase this font for use in your personal or non-commercial projects.