HONDA Europe Commission

Painting and Illustration to celebrate two World Champions
Kenan Sofuoglu  World Supersport Champion 2010
Honda Europe commissioned two artworks to celebrate their winning World Championship titles in Road racing and Enduro in 2010.
I painted this action picture of World Supersport Champion Kenan Sofuoglu on his Tencate Honda cranked over in a corner with the heat  haze coming from his exhausts trailling behind!  This was the first world championship success for the Turkish rider in the Supersport series that runs along side the Superbike World Championship at each round.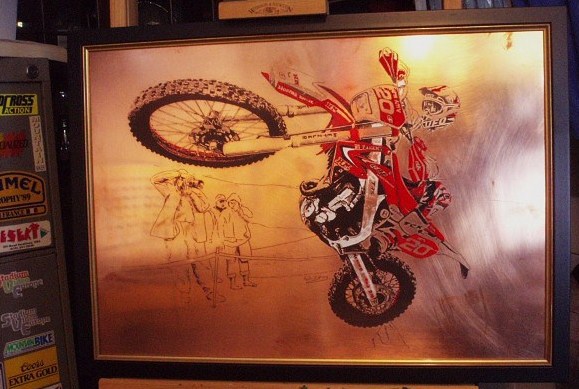 Mika Ahola 2010 World Enduro Champion Illustration on Copper Plate
As Honda presented Mika Ahola with one of my paintings last year, Roger Harvey and I discussed using a different medium to celebrate the second consecutive World Title for the Finnish rider.
We jointly came up with the idea to etch my illustration of Ahola onto a 2mm thick Copper plate, with added spot colour.
Whilst this was a new technique for me, we were both well pleased with how it turned out!
www.robkinsey.com