Dodge - Mobile
Multi-mobile application design for Dodge
Platforms: iPhone & DROID
Dodge Remote
Multi-functional app features:
• Start/Stop your car remotely
• Track your location, map your trip
• Real time updates on diagnostics
• Maintenance service reminders
• Traffic updates and more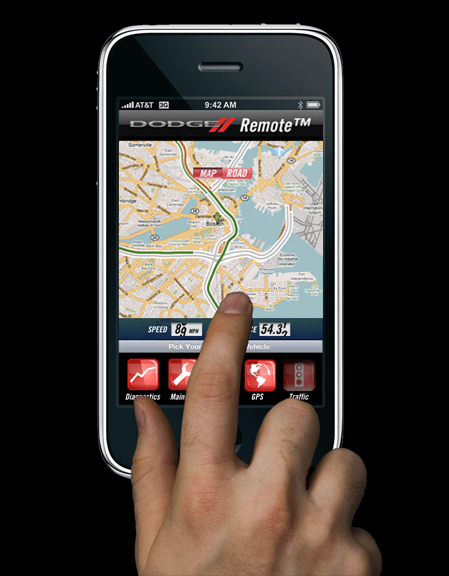 Dodge Mobile Suite
Beyond The Lot App
(right)

- Vehicle Information Gathering via QR Tag technology
- Learn every detail about your vehicle from production to purchase
- View features, owner's manual and modifications all at the scan of a code
- Watch assembly features and videos of your model and make
Dodge Traffic
(center)
Avoid the jams, get the know-how to make your commute more enjoyable
- Real-time traffic updates with push alerts
- Track your location, map your trip
- Provides alternate/detour routes for your travel
- Save yourself a headache and know your route before you go
Mobile MOPAR™
(left)
- An updated mobile-enhanced version of MOPAR online
- Place and track orders
- View parts, modifications and OEM catalogs
- Learn tips, tricks and gather information from enthusiasts just like you
Dodge In Your Garage

Eve
r fantasize over what those new wheels would look like in your driveway? Well we took that fantasy one step closer. "Dodge In Your Garage" offers an interactive approach to uploading your favorite new vehicle right into your very own garage. Using your mobile device's camera, simply take a snapshot of your garage, driveway or parking spot and drag your favorite new set of wheels into the setting. Let the scale-mapping software conform your new dream vehicle to fit within the space desired and get a sense of what it would really be like to own that new toy!
Beyond The Lot 2 - Augmented Reality



Offering the features from the previous app "Beyond The Lot", this version takes experience 1 step closer to reality. By utilizing the QR Code technology, you can gain full access to view 3D panoramas of the interior of your new future vehicle as well as experience the comforts and features it provides before even stepping inside.