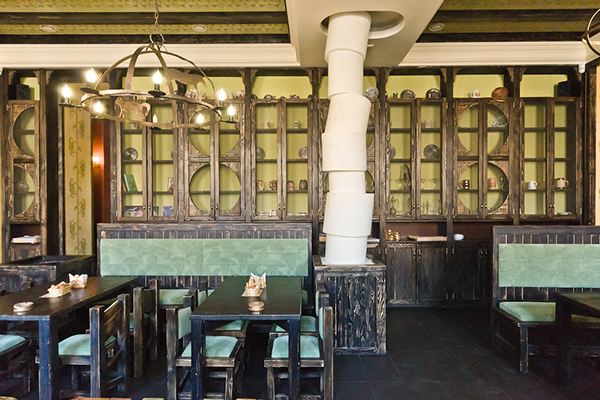 Group of creators:
architect:Alexander Loginov,
artist: ElizabethOspischeva,
decoration: AlexanderZakharov,
 photo: Romashko  Aleksey.
Object: German beer cafe "Bremen" in Odessa, Ukraine
Area before reconstruction: 65.5 sqm.
The area after the reconstruction: 168.0 sqm.
 
Requirements ofthe customer were to make a worthy German cafe,which would transmit the spirit of Germany, withits quiet stone streets, hammering, shutters ... and a beer mood.
 Bremen - one of the oldestcities in the Germany, also known by stories about the musicians of Bremen. Exactly such was the main theme in the production of author lightings and wallswith stencils.Author's furniture is made intentionallycrude.  
After  all, beer cafe - is, in fact, club for men.
 There are many unusual items in all rooms, withtheir "medieval", such as a broken column, reminding  for some  boxes for hats, for some - .... ". Everyone has hisown thought. This also appliesto  pixel wall of stonewith inscriptions and pictures, and modernized  bar with chairs, which are collected in theword «Prost» ("health")
and a huge table andchair on the front instead of the entrance ...
I wanted to create a cafe with ahistory of not only the old Bavarian town, but its own. Timely and timeless at once.